Going Global
Going to Michigan Tech isn't always about being at Michigan Tech. Students have plenty of opportunities to expand their horizons.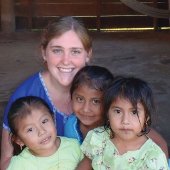 Peace Corps volunteer Megan Abbott with friends in Belize.
Peace Corps Master's International Program biggest in the US
For three years in a row, Michigan Tech's Peace Corps Master's International programs have topped the nation in numbers of graduate students actively serving in the Peace Corps overseas.
Tech offers eight Peace Corps Master's International programs.
Applied Natural Resource Economics
Biological Sciences
Civil and Environmental Engineering
Forest Resources and Environmental Science
Mechanical Engineering
Natural Hazards Mitigation (Geology)
Rhetoric and Technical Communication
Science Education
---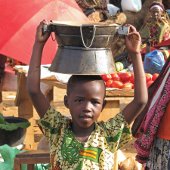 Tech in Tanzania
For three years, Michigan Tech graduate students have been working with villagers in Tanzania to make their lives a little easier, thanks to a grant from the National Science Foundation. They have made progress, building social enterprises out of basic research in the process.
Too much fluoride
Some fluoride in drinking water can prevent cavities. But if you have too much, it causes crippling skeletal deformities and severe dental problems. Bailey Gamble, who is working on an MS in Environmental Engineering, is developing a business plan in hopes of prompting entrepreneurs or nonprofits to set up an enterprise that would remove excess fluoride from the water.
Cooking smoke
Jarod Maggio, a PhD student in environmental engineering, has spun off a nonprofit enterprise, Household Cooking Innovations. He aims to curb respiratory disease brought on by longstanding cooking practices: burning low-quality biofuels inside with no ventilation.
Better bikes
Most bikes used to haul goods around East Africa are too expensive and too flimsy. Ben Mitchell, a PhD student in mechanical engineering, traveled to Tanzania and Kenya to look for solutions. His work has led to a partnership with World Bike Relief and support from the National Collegiate Inventors and Innovators Alliance.
---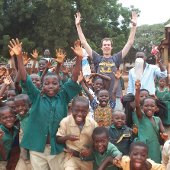 Pavlis Institute participant Mitchell Edbauer in Ghana with some very excited school children.
Pavlis Institute for Global Technological Leadership
Established in 2006 by a gift from Frank Pavlis '38, the institute provides leadership training to students and is capped by an international experience. Students have traveled to local schools in Ghana, providing laptop computers, a library, hands-on science instruction to school children, and community centers.
Pavlis Institute students have also visited Argentina, where they have installed solar panels to provide power in remote areas, worked with local artisans to develop ways to market crafts, taught English, and designed and installed a water purification system.
---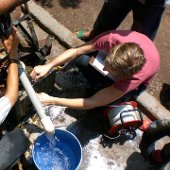 D80 Center
This umbrella organization for a variety of University programs, including Engineers Without Borders, is devoted to meeting the challenges of the 80 percent of the world's population that is not typically considered by those creating infrastructure, goods, and services.
International Senior Design
Students apply their skills in developing countries. Recently, a team of mechanical engineering seniors traveled to India with two sets of braces to help disabled children walk.
Discover Design Delight
This social entrepreneurship course gives graduate student teams one academic year to identify a pressing community need, use a human-centered design process to prototype a product or service, and craft a social enterprise to launch the solution into the world.
Engineering and Construction Enterprise
Emma Getty leads this Enterprise, which has developed an infant heartbeat detector to use in the developing world. The detector, which can determine whether or not unresponsive babies are alive, is smaller than a credit card and is undergoing clinical testing at a local hospital.
Getty, 21, learned about this project when she was 16. It's the "whole reason" she came to Michigan Tech. There are eight students in the Enterprise, and she enjoys the teamwork. "We're all excited to help people and save babies."
Michigan Technological University is a public research university founded in 1885 in Houghton, Michigan, and is home to more than 7,000 students from 55 countries around the world. Consistently ranked among the best universities in the country for return on investment, Michigan's flagship technological university offers more than 120 undergraduate and graduate degree programs in science and technology, engineering, computing, forestry, business and economics, health professions, humanities, mathematics, social sciences, and the arts. The rural campus is situated just miles from Lake Superior in Michigan's Upper Peninsula, offering year-round opportunities for outdoor adventure.