For Students Only
When it comes to academics, Michigan Tech students have more choices than ever.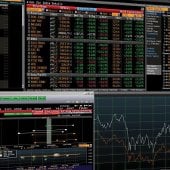 Students plot their investment strategies using a Bloomberg Terminal, which gives them access to a vast database of financial information. It is one of only two such terminals in the UP.
Playing the stock market: more than fun and games
Students in the School of Business and Economics manage more than $1 million of real money as part of Project RISE, an international student investment competition. Tech first entered the contest in 1998, taking first place three times. Associate Professor Dean Johnson founded the effort, called the Applied Portfolio Management Program (APMP). He received an endowed professorship created in 2011 with a $1.16 million gift from James '67 and Dolores Trethewey, who have supported the initiative from the start. The professorship will fund scholarships, travel, and program support. Another gift, from Joe '76 and Vickey Dancy, funded extensive renovations to the team's headquarters, the LSGI Trading Room.
Over the years, the fund has grown with support from the School, the Michigan Tech Fund, individual donors, and industry.
Participation in APMP helped Danielle Linna '11 get a job and define her career goals: "I want to make an impact on national and international accounting standards and financial procedures."
---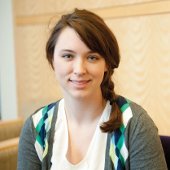 With honors
The 190-member Honors Institute supports students dedicated to academic excellence.
Members must maintain a grade point average of 3.5, write an essay for a national competitive scholarship, and perform three contracts. The contracts allow them to investigate unusual subjects; past contracts have included "The Physics of the Trumpet" and "Chaos Baseball."
Kerry King, a third-year student in chemical engineering, has been a member since she enrolled at Tech. She says of the initiative: "This program goes beyond academics and digs deep into interests. The activities apply to life—all the things that can't be taught but are learned through experience."
"I'm so happy I chose to come here," she adds. "I love this school."
---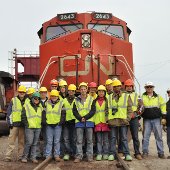 Pasi Lautala, far left, with students visiting the CN facilities in Escanaba.
Railway Transportation Program picking up steam
When Pasi Lautala was growing up in Finland, he caught the railroading bug. The son of a locomotive engineer, Lautala brought his passion to Michigan Tech.
He thinks railroads will loom large in America's future. So after he earned his PhD from the University, he stayed to develop a Rail Transportation Program within the Michigan Tech Transportation Institute.
The rail industry supports Lautala's vision. CN, the rail giant of Canada, donated $250,000 to establish the CN Rail Transportation Education Center. Union Pacific, CSX, and others have pitched in. And, companies such as Amtrak, Norfolk Southern, and Canadian Pacific; rail contractors and consultants; and equipment manufacturers are sponsoring internships and hiring Tech graduates.
Tech is part of a consortium of universities that received $3.5 million from the US Department of Transportation to establish the National University Rail Center (NURail), a rail transportation and engineering research center.
All told, Michigan Tech is riding the rails into the future of public transportation.
Lautala was interviewed on the Qinghai-Tibet Railroad for the National Geographic International documentary "Megastructures: Extreme Railways."
---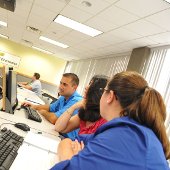 Professional master's degrees: the next step
Online MBA
In 2010, Michigan Tech launched its new online MBA program, and two years later it has already made US News & World Report's honor roll. Focusing on technology and innovation, this accredited two-year program makes it easy to take courses online anywhere in the world.
Master of Engineering
Hybrid electric-drive vehicles demand a special set of skills. To prepare automotive engineers to thrive in this hybrid/electric world, Michigan Tech developed a curriculum for auto engineers that includes an interdisciplinary professional Master of Engineering and certifications in technologies for hybrid and electric vehicles.
The effort was led by Jeff Naber, the Ron and Elaine Star Professor in Energy Systems.
Michigan Technological University is a public research university founded in 1885 in Houghton, Michigan, and is home to more than 7,000 students from 55 countries around the world. Consistently ranked among the best universities in the country for return on investment, Michigan's flagship technological university offers more than 120 undergraduate and graduate degree programs in science and technology, engineering, computing, forestry, business and economics, health professions, humanities, mathematics, social sciences, and the arts. The rural campus is situated just miles from Lake Superior in Michigan's Upper Peninsula, offering year-round opportunities for outdoor adventure.