Athletics
Fans have had a lot to cheer about.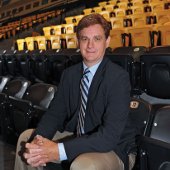 WCHA: Pearson named Coach of the Year
New head coach Mel Pearson '81 earned Western Collegiate Hockey Association's Coach of the Year honors for leading his squad to a major turnaround. This winter the hockey Huskies posted wins against powerhouses Denver, Duluth, and Minnesota.
The 16 victories (four times last year's win total of 4) cap a series of major improvements that began several years ago. Most recently, John '61 and Ruanne Opie committed a $1 million gift for the Hockey Arena Renovation Project, which included luxury suites, new locker room facilities, and more comfortable seating. And the hockey program is looking forward to a video scoreboard and video streaming abilities, with generous help from alumni.
---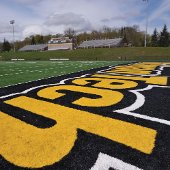 New turf for Sherman Field
Talk about passing the torch! It was a great moment when Tom Kearly followed in his father, Ted's, footsteps as head football coach. What Ted did later was cause for celebration. Ted donated most of the funds needed to install new all-season turf on the field in 2008.
---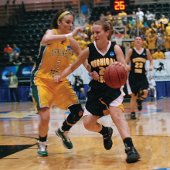 Women's basketball goes (almost) all the way
It was quite a run. The 2010–11 women's basketball team advanced through the GLIAC championships, regional NCAA play, to the Elite Eight in St. Joseph, Missouri, and finally to the Division II Championship game (broadcast on ESPN2). They've had support from alumni and friends all the way.
The women lost to Clayton State, but their performances united Husky Nation like it hasn't been in three-plus decades. All-Americans, all-Midwest Region (player and coach), Elite 88 (player with the best GPA at the national championship): the honors rolled in and continued a long-standing tradition: excellence in women's basketball.
---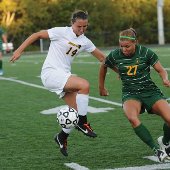 Women's soccer brings new faces
The three-year-old women's soccer program is holding its own against veteran squads and giving fans another great reason to go to Sherman Field. A substantial gift from one anonymous donor made it all happen.
The new program fits in well with attempts to increase female enrollment. And the women are also upholding Tech's habit of student-athlete academic excellence: the soccer team recently earned the National Soccer Coaches Association of America Team Academic Award.
Michigan Technological University is a public research university founded in 1885 in Houghton, Michigan, and is home to more than 7,000 students from 55 countries around the world. Consistently ranked among the best universities in the country for return on investment, Michigan's flagship technological university offers more than 120 undergraduate and graduate degree programs in science and technology, engineering, computing, forestry, business and economics, health professions, humanities, mathematics, social sciences, and the arts. The rural campus is situated just miles from Lake Superior in Michigan's Upper Peninsula, offering year-round opportunities for outdoor adventure.