Rudders. Propellers. Missing hatch covers. Broken masts. The Great Lakes Research Center (GLRC) uses sonar-equipped autonomous underwater vehicles (AUVs) to probe the skeletons of historic shipwrecks.
The ability to provide ultra-high resolution acoustic images brought GLRC researchers to the Thunder Bay Sanctuary in Lake Huron in May 2017 to help find the Choctaw and the Ohio, two recently discovered nautical graveyard dwellers. The previously undiscovered wrecks rest 300 feet down about 15 miles off the coast of lower Michigan's Presque Isle.
GLRC director Guy Meadows joined research scientists Jamey Anderson and Chris Pinnow aboard the National Oceanic and Atmospheric Administration (NOAA) Great Lakes Environmental Research Vessel Storm. They operated the center's IVER3 AUV, which uses an advanced sonar system, the EdgeTech 2205.
"Our portion of the mission was to use Michigan Tech's AUV to fly close to these very deep shipwrecks and obtain sonar images of the precise dimensions and details to aid archaeologists in identifying the lost ships," Meadows explains. "Our IVER3 performed beyond our expectations and acquired spectacular sonar images of each wreck."
Wrecks Abound
The Ohio met her demise in 1894; the Choctaw in 1915, both sunk in collisions with other vessels. No lives were lost on those ships, but five died on the Ironton, the schooner barge whose towline parted, causing an ill-fated collision with the Ohio. The Ironton has not been found, one of 100 or more undiscovered shipwrecks in the approximately 4,300-square mile Thunder Bay sanctuary.
Four crew were lost in the sinking of the Typo. Surveillance of this known shipwreck and several others, including the 296-foot long bulk carrier Norman, took place June 22-30, 2017.
In all, the Great Lakes are the final resting place for more than 6,000 shipwrecks, with only about 1,000 identified. How many more watery graves will be articulated thanks to AUV imaging?
Read more on the Ohio-Choctaw mission in "Researchers Discover Two Historic Shipwrecks in Thunder Bay National Marine Sanctuary" on Michigan Tech News.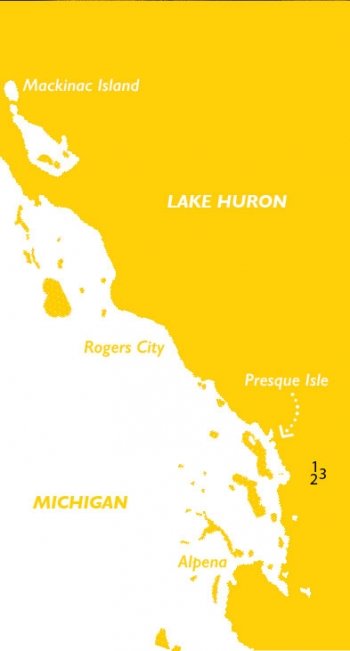 Choctaw Built in 1853, the 266.9-foot steel Choctaw experienced a litany of accidents—grounding, partial sinking, and a collision involving a full sinking—before the ship went down in 1915. The final resting place was lost until last summer.
Typo The Typo, a 137-foot, three-masted schooner built in 1873, sank in a collision October 4, 1899 in Lake Huron. Her ship's bell is intact; the hold is full of coal.
Norman The 296-foot steel-hulled bulk freighter vessel Norman, built in 1890, was hit by the Canadian steamer Jack near Presque Isle on May 30, 1895.
Michigan Technological University is a public research university founded in 1885 in Houghton, Michigan, and is home to more than 7,000 students from 55 countries around the world. Consistently ranked among the best universities in the country for return on investment, Michigan's flagship technological university offers more than 120 undergraduate and graduate degree programs in science and technology, engineering, computing, forestry, business and economics, health professions, humanities, mathematics, social sciences, and the arts. The rural campus is situated just miles from Lake Superior in Michigan's Upper Peninsula, offering year-round opportunities for outdoor adventure.