Fall 2014 Class Notes
Class Notes
What's up with you? Submit your own class note and photo online at mtu.edu/alumni/connect/networking/ or email us at techfund@mtu.edu.
If you have a new addition to your family, email us at alumni@mtu.edu and we'll send you a special gift from Blizzard T. Husky!
1940s
Robert C. Weed '42 died March 13 in Silver City, New Mexico. He was a rancher and retired president of the Natural Resources Group. In 1996, he was inducted into the Geological and Mining Engineering and Sciences Academy at Michigan Tech. Weed received a BS in Mining Engineering from the Michigan College of Mining and Technology and then served in the US Army Corps of Engineers, rising to the rank of captain. He was awarded the Silver Star by General Patton in 1943 for gallantry in action at the Battle of Kasserine Pass in Tunisia, North Africa.
1950s
Jim Jenkin '50 (Mechanical Engineering) celebrated his sixty-fifth wedding anniversary June 11 in Ishpeming.
1960s

Allan Pedersen '60 (Business Administration) serves as the base liaison coordinator for the USO of North Carolina at Seymour Johnson Air Force Base in Goldsboro, North Carolina. He directs day-to-day activities and planning of services for more than 12,000 individuals and was awarded the USO Volunteer of the Year award in 2013.

Bill Deephouse '64 '71 (Chemical Engineering, MS Biological Sciences) and Marcia Goodrich, recently retired editor of the Michigan Tech Magazine, were married July 26. Fish biologist Bill is long retired from the Michigan DNR but still enjoys poking around the woods and waters of his favorite place in the world, the Keweenaw Peninsula.
1970s

Daniel Hanninen '74 (Forest Technology) is hoping to be at the fortieth reunion of the Class of 1974 in August. "Hope to see some classmates there, safe trips everyone." He's pictured "visiting God's Country, Lake of the Clouds." (We hope you made it, Dan.)
Les Quick '74 (Forestry) asks: "Anybody remember Mr. Huta's strawberries in Chassell? I just bought some big ones at Kroger but just not da same."
1980s

Suzanne Jurva '82 (Scientific and Technical Communication) took a family trip to the UP to reminisce about the winter of 1978–79. "Besides a blizzard and -22° weather, we were also photo bombed by some friendly alpacas in Hancock!" She and Joe live in the Atlanta area, and their children are in college. "We feel like we're still in college, which suggests that we're either crazy or there's some truth to what we learned in physics about time and space."
1990s

Michelle Eggart '96 (Environmental Engineering) announces the birth of a son, Robert Walker, born March 25. He came in at 8 pounds, 10 ounces, and 20.5 inches.
Kevin Britton '97 (Mechanical Engineering) was named a Certified Six Sigma Black Belt by the American Society for Quality in October 2013.

A. David Claus '99 (Civil Engineering) has joined Stantec as their structural engineering manager for the power business group in Denver.
2000s
Gordon Mosher '01 '02 (Forestry, Applied Ecology and Environmental Science) is now living and working in Parker, Colorado, with his wife, Alycia, and their children (Jaxon, 7, and Lilian, 5). Gordie is a program manager at AVID Center (Advancement Via Individual Determination) and oversees College Readiness Systems for the State of Colorado. "Living and working in Colorado is a great reminder of time spent in the Keweenaw," he says.
Ben Almquist '04 (Materials Science and Engineering) is joining the Department of Bioengineering at Imperial College London as a new faculty member, where his research will focus on tissue engineering and regenerative medicine.
Heather and Jed Peters '07 (Civil Engineering) announce the birth of their second boy, Sawyer, on March 18, 2013.

Ron and Tracie Leix '02 (Civil Engineering) welcomed their second child, Clara Jean, on November 5.
Nate (current mechanical engineering student) and Jodi (Rossow) Shafer '07 (Accounting) met while living in Focus Inn, in Wadsworth Hall, during fall 2004 and were married on July 5 in Houghton. They live in the Houghton area, where Jodi serves as a grant accountant for Keweenaw Bay Indian Community.
2010s
Kenny '10 (Computer Network and System Administration) and Kate Barnt '10 (Communication and Culture Studies) welcomed their second child, Henry Marcus, to the world on New Year's Day.

Alyssa and Steven Tangney '10 (Mechanical Engineering Technology) welcomed their daughter, Addison Avarie, on September 20, 2013. Steve works for A and D Technology in Ann Arbor.

Amanda Taylor '10 (Business Administration) and her husband traveled to Hollywood to run their first half marathon. "It was a wonderful but exhausting experience. We could see the Hollywood sign during part of the run! We finished strong with a 2:34:30.6 time."
Matthew Carney '11 (Mechanical Engineering) and Rebekkah Bury '11 (Civil Engineering) are engaged and are planning a February 2015 wedding in Chicagoland.
---
Transitions

Steven R. Seidel
1951–2014
Professor Steve Seidel, 62, passed away June 26, at his home in Houghton.
Seidel came to the University in 1984 as an assistant professor in what was then the Department of Mathematical and Computer Sciences, joining a cadre of young scientists. One of them was Professor Linda Ott.
"He really cared a lot about the department and the students and doing things right," she said. "He was demanding of students and had high expectations, but he was fair."
Seidel spearheaded a new PhD program in computational science and engineering and had an active research program, including a substantial project in Unified Parallel C.
Seidel was known for his model trains and his passion for old cars, which he shared with Charles Wallace, associate professor of computer science. "Steve was a great friend all the time I knew him, but he was especially helpful to me when I was a young assistant professor," said Wallace.
"I miss him already," said Ott. "In department meetings, around the office, the things he would say. . . . He was part of everything. I so wish he could have been around longer."
He is survived by his wife, Ellen Seidel, head of collections and technical services at the Van Pelt–Opie Library; daughter Hannah (Eric Chase); Seidel son Carl (Aimee) Seidel; and grandchildren Sophia, Eva, and Violet.
Robert H. Mount
1927–2014
Professor Emeritus Robert H. "Bob" Mount, a longtime member of the physics faculty, passed away July 2 at his home in Hancock. He was 86 years old.
Mount came to Michigan Tech in 1954 and retired from the University in 2000. For much of his career, he taught introductory physics courses. "His forty-six years of service is the second-longest in department history— the longest being James Fisher," said physics professor Bryan Suits.
Professor Don Beck remembered his library. "He had an extensive collection of college-level books that he managed to fit into one of our smallest offices."
Mount donated most of that collection to the Society of Physics students upon his retirement. "Fourteen years later, those books are still in the undergrad physics room and are consulted on a regular basis, sometimes even by grad students and professors," said Professor Raymond Shaw.
Mount is survived by his children, Becky, Nancy, Rob, and Jeff (Elyssa); and his grandchildren, Rachel and Gabe. He is also survived by his pets, Peppy, Kitsalee, Linky, and Mama, his devoted and adoring lap cat.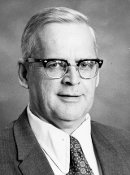 George Robert Butler
1928–2014
George Robert "Bob" Butler, 85, former dean of the School of Business and Engineering Economics, passed away July 8 at the Houghton County Medical Care Facility.
Butler earned BS degrees in Mechanical Engineering and Engineering Administration from Michigan Tech before completing an MBA at the University of Chicago. After beginning his career in the oil industry, he came to Michigan Tech in 1967, serving as interim dean of the business school from 1980 to 1985, retiring in 1988.
Butler had an abiding interest in business and entrepreneurship and was a past president of the International Council of Small Business.
He is survived by his wife, Hester; his son Karl of Calumet; daughter Hester (Daniel) Butler-Ehle of Calumet Township; and grandchildren Julia Butler-Ehle and Alexandra Butler-Ehle.
---
Memoriam
The Michigan Tech family extends condolences to the relatives and friends of those who have passed away.
1942

Arthur J. Karam
Robert C. Weed
Arthur J. Wuebben

1943

Allen H. Boelter
Ralph L. Seger Jr.

1948

Edwin F. Koski

1949

Esther A. Seaman

1950

Albert E. Boyer
Wilbert Heikkinen
Mack C. Johnson
Paul R. Lepisto
Erven I. Maki
Robert L. Turnquist Sr.

1951

Hugh C. Ross
Robert L. Todd

1952

Leo J. Foco
Gordon J. Kuivanen

1953

Robert C. Bammert
John Bremer Jr.
John B. Clementi
Paul D. Jahnke
Roy A. Oja

1954

Dale R. Greve

1955

Dale P. Tubbs

1956

Ronald J. Narlock

1957

John E. Fitzgerald
Joanne E. Highdale
Roy L. Johnsen
Dr. John P. Klus

1958

Dr. Robert L. Brown
James A. Mattson

1960

Alfred F. Burkhardt Jr.
Dr. Lee P. Hunt, Deacon
Dr. David G. Leddy

1961

Joseph C. Bagnasco
Thomas K. Beber
Joseph E. Kirby Jr.

1962

John E. Forsberg

1964

Nicholas R. Farkas
Frederick J. Lanari

1966

Robert H. Dean
Lionel J. Grime

1967

John M. Croze

1968

Noel D. Culbert

1970

Donald A. Barber

1972

Susan J. Michaelson
Edward Modzelewski

1973

Bruce R. Leavitt

1974

Kirk G. Czuhai

1975

John D. Trombley
Steven VanderKooi

1977

Richard A. Geno

1981

Peter M. Baker

1986

Adil Shafi

1990

Mary C. Graham

1991

James A. Rheault

1992

Scott J. Huhta

2008

Adam W. Boyd
Michigan Technological University is a public research university founded in 1885 in Houghton, Michigan, and is home to more than 7,000 students from 55 countries around the world. Consistently ranked among the best universities in the country for return on investment, the University offers more than 125 undergraduate and graduate degree programs in science and technology, engineering, computing, forestry, business and economics, health professions, humanities, mathematics, social sciences, and the arts. The rural campus is situated just miles from Lake Superior in Michigan's Upper Peninsula, offering year-round opportunities for outdoor adventure.