Alumni Association Notes
Q & A with Mark Roth, custodian
Roth was the manager of Jim's Too Foodmart on Sharon Avenue before coming to Michigan Tech to be a custodian in McNair Hall (then Co-ed Hall), where he worked eleven years.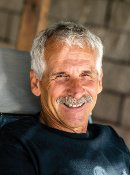 When did you work at Tech?
From 1989 to 2000. Then I took a maintenance position at Chassell School to be nearer my home. I just retired from there.
What did you do at the University?
I was custodial, and I did some maintenance, working on washing machines, dryers, and whatever came up in the summertime.
What was it like working with students?
I tried for fifteen years to get into Michigan Tech, and when I did, everyone told me the students would walk all over me. So in the beginning I was nervous, but within a month, I was hunting with them, fishing with them; my wife, Ann, and I would have them over for supper. All of a sudden, I felt I was part of their family.
What was the best part?
Mingling with the students, chatting with them. And my coworkers. It was always a joy to go to work. And of course, working for Dan Strzyzykowski [the former purchasing agent for Residential Services Facilities]. He was the best supervisor I ever had. They called him Spic-and-Span Dan. I talked with so many parents who had kids in other universities, and they'd be overwhelmed with how spotless McNair Hall was. Dan passed away a few years ago, and that's why I retired early. He had all these hopes and dreams, and sometimes those dreams don't come true. I didn't want that to happen to Ann and me.
The worst part?
Scrubbing them showers on Monday morning. Your shoulders would just be aching.
What do you miss?
I loved doing maintenance. You are always learning, doing something different. And I miss the students. When they'd come back in the fall, it was like when your own kids come home. The hard thing was when they graduated; you might never see them again.
I have helped with move-ins in the fall. It's fun seeing how grateful the parents are, the look of relief on their faces when they know their kids are in a good place where they'll be taken care of.
Any memorable students?
We still communicate with Luke Karas. He used to be an RA, and he sent me an invitation to their son's graduation. I can tell I'm getting old when his kids are graduating from high school. And Matt Cameron, the basketball player—he and the other three guys in that room, all good basketball players and good people. They would come over for Easter dinner wearing suits and bringing flowers for Ann.
What do you do now that you are retired?
I'm painting the house; it's only my second day of retirement.
Anything else?
Just how great the students were. In the beginning, everyone told me they were going to walk all over me, but I got to walk with them.
---
Alumni chapter spotlight: Northwest Michigan
Since 2007, alumni and friends in Northwest Michigan have supported a scholarship fund for their local Michigan Tech students. In addition to social events such as a Tech Trivia night, the chapter invites scholarship winners, students, alumni, family, and friends to show their Tech spirit in the Cherry Royale Parade.
Hats off to the Northwest Michigan Alumni Chapter for helping advance the mission of the Michigan Tech Alumni Association: Celebrating Traditions. Creating Connections.
You can find a list of our alumni events on our webpage, www.mtu.edu/alumni, and on our Michigan Tech Alumni Association Facebook page.
---
Copper Country Snowfall Contest is back
The Alumni Association's Fifth Annual Snowfall Contest kicks off in November for the 2014–15 season at www.mtu.edu/alumni.
If you accurately predict the total amount of snow to fall in the Keweenaw this winter, you could win a stay in a campus guest room and a Michigan Tech Winter Survival Kit.
Thank you to everyone who entered the 2013–14 contest. The official snowfall total for the season was 208.75 according to the Michigan Tech Keweenaw Research Center, but it felt like a lot more than that.
Anna Miller, a 2012 mechanical engineering alumna, wins the grand prize with her prediction of 208.25 inches. She will receive a stay in a campus guest room and a Michigan Tech Winter Survival Kit.
Kaitlyn Sundstrom, a 2012 biochemistry and molecular biology graduate, was chosen from all entries to receive the consolation prize of a Michigan Tech Winter Survival Kit.
Check out the snow memories of alumni and friends at mtu.edu/memories and post your own stories about winter at Tech.
Michigan Technological University is a public research university founded in 1885 in Houghton, Michigan, and is home to more than 7,000 students from 55 countries around the world. Consistently ranked among the best universities in the country for return on investment, Michigan's flagship technological university offers more than 120 undergraduate and graduate degree programs in science and technology, engineering, computing, forestry, business and economics, health professions, humanities, mathematics, social sciences, and the arts. The rural campus is situated just miles from Lake Superior in Michigan's Upper Peninsula, offering year-round opportunities for outdoor adventure.