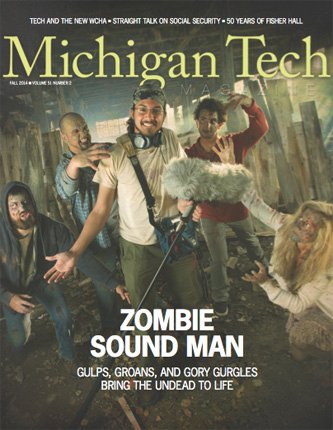 Sound design student Chris Trevino learned to make zombie noises while interning at a Detroit sound effects studio. Here, he clowns around with the unreal thing during one of the funnest photo shoots ever, at an old, abandoned warehouse near the village of Mason, just a few miles from campus.
Photo: Sarah Bird
Students gather for s'mores and camaraderie at Princes' Point.
Photo: Sarah Bird
---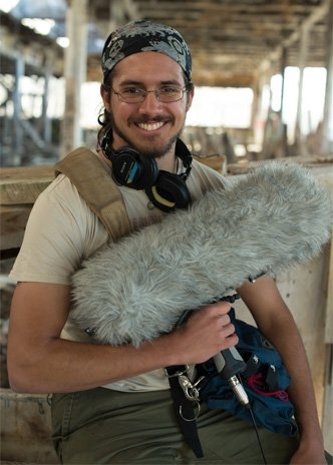 by Danny Messinger
Chris Trevino brings life to the undead, whooshes and whams to super-heroes and villains. He sets the scene for every noisy medium imaginable, from video game to vlog to TV show. And as an up-and-coming sound effects producer, he's got one of the coolest (and sometimes sloppiest) jobs around.
Trevino, a sound design major with graduation on the horizon, has been an incurable video game junkie since a young age. He'd play any game he could get his hands on.
"The music in the games has always really gripped me," he says. "It wasn't until after I came to Tech and discovered sound design . . .
---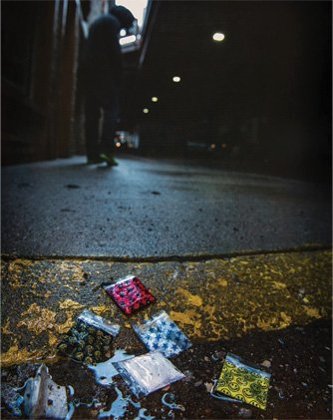 by Marcia Goodrich
Nothing about the packet on the bench in front of Sandy Orlowski '08 '10 seemed out of the ordinary. As a forensic scientist, she was used to police bringing her small, plastic-foil envelopes with cheery, whimsical labels totally at odds with the contents. This one said "Ivory Wave" and featured a relaxing beach scene complete with bare feet and palm trees.
Donning gloves, safety glasses, and a surgical mask, she opened the package, weighed the contents, and reminded herself, "This is an unknown white powder." Orlowski is a player in Michigan's war against illegal drugs, but above all, she is a chemist. While attorneys may be trying to build a case that will sway judge and jury, her responsibility is cut and dried: identify what's in that packet.
She dissolved a few milligrams of the powder in a solvent, placed the solution in the lab's gas chromatograph–mass spectrometer . . .
---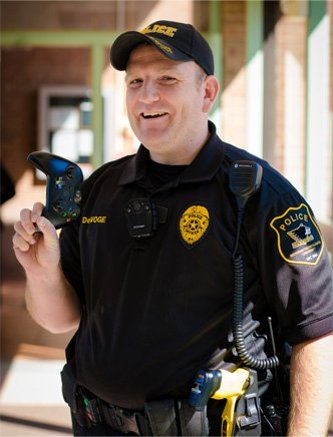 "Come on," he says, adjusting the volume on his police radio, the voice of the dispatcher fading out. He looks the student opposite him straight in the eye. "You can't seriously believe that." The student is taken aback, opening his mouth to say something, then closing it again.
"There's no way the PS4 is better than the Xbox One. I mean, look at the games that are out for the Xbox!"
It's an early dinner in the Wadsworth dining hall, and Public Safety Officer Reid DeVoge is sitting among students, more than keeping up with the talk of video games. "I got the Wii U for my kids," he explains later. "It is a lot of fun. Don't tell these guys that, though: hardcore gamers would never admit it."
Heading out from dinner, he stops a half dozen times to greet students, making small talk on topics ranging from mountain biking to . . .
---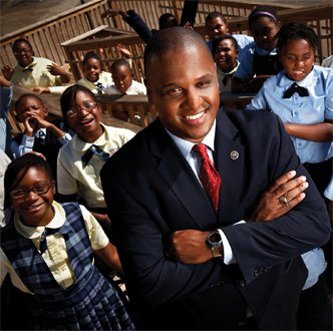 by Marcia Goodrich
He is tall, well over six feet, powerfully built, at ease in both pinstripes and army fatigues. His smile draws humans like stadium lights draw bugs. And he is the face of the National PTA.
Anna King will never forget the first time she met Otha Thornton '01.
"It was 2008, my first National PTA convention," she recalls. King was by herself in a place she'd never been, surrounded by people she didn't know who all seemed to be each other's best friends. Then out of the blue, Thornton walked up. "He said, 'You look lost.' I told him I didn't know what I was supposed to do, and he showed me around," King says. "He asked me if anyone had spoken to me, and I said no. Then he looked right at me and said something I have never forgotten: 'If they don't speak to you, you speak to them. We are all in this together.'"
---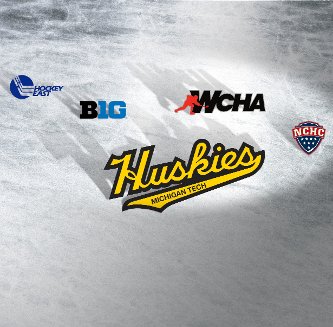 by Wes Frahm
When Penn State added a varsity hockey program and the Big Ten decided to sponsor men's ice hockey as a sport beginning in 2012–13, the landscape of college hockey shifted. Twenty of the fifty-nine college hockey programs in the nation changed conference affiliation in the offseason prior to 2013–14.
Michigan Tech remained in the Western Collegiate Hockey Association, the nation's most-storied league, along with three others, while six new members joined.
One year into the reformation of college hockey, we checked in with Michigan Tech coach Mel Pearson '81 to see how the changes have affected the Huskies.
---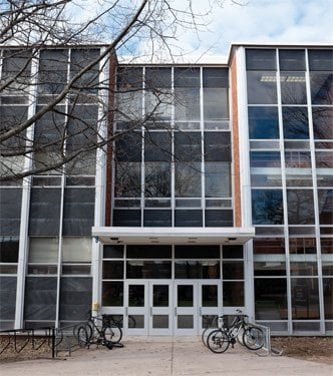 by Karina Jousma
Fisher Hall has reached a milestone this fall: the big 5-0.
Anyone attending Tech within the last fifty years knows this campus landmark, which has been many things for many people—home for mathematics and physics majors, headquarters for gen ed courses, terror for first-years in chemistry, budget entertainment, and even a venue for true love (more on that later). Fisher has a character all its own—an identity that is as much tied to the Huskies who walked its halls as it is seated in the building's physical attributes.
In 1963, the State of Michigan passes a new constitution establishing the Michigan College of Mining and Technology as a university. (The University's name changed the following year.) "The state was ramping up for . . .
---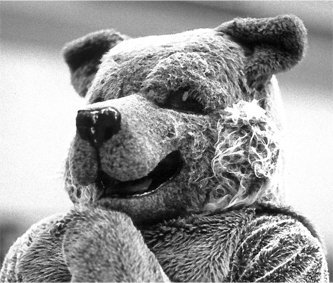 by Dennis Walikainen
Ever since we've been the Huskies, there have been husky mascots. They've been carved in snow, and real dogs have roamed the sidelines of athletic events for years. So, too, has a student or two dressed as a dog (or something vaguely resembling a dog).
The earliest recorded human mascot we discovered goes back to the late 1960s and early 1970s. Looking more Yogi Bear than a Siberian husky, he had a female co-mascot in white "fur."
"We embellished my costume with goalie shin pads painted in gold and black saying 'Go Tech,'" says Bill Wassberg '71. "A goalie blocker, stick, and . . .
---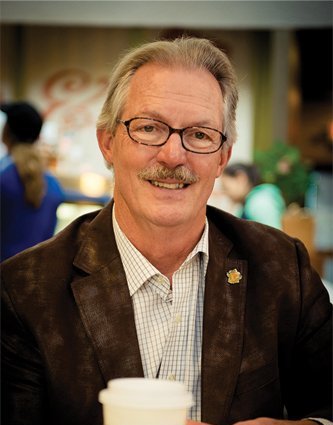 by Jennifer Donovan
What do you and a nineteenth-century Prussian factory worker have in common? The kind of income you are going to rely on in retirement, says Pat Joyce, professor emeritus of economics.
Social Security was conceived by Otto von Bismarck, best known for unifying German states into a powerful empire.
Germany was the first country to adopt a workers' pension system. The system, passed by parliament in 1889, provided retirement and disability benefits. Participation was mandatory, with contributions taken from employee, employer, and the government.
Across the sea, politicians were paying attention. During the Great Depression jobs were scarce, and the government wanted to encourage . . .
---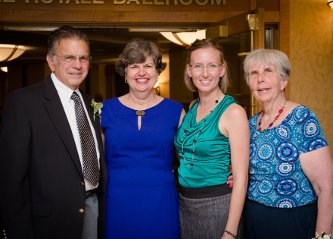 Fall 2014 Alumni Association awards for Outstanding Young Alumni, Outstanding service, Honorary Alumni, and Distinguished Alumni.
---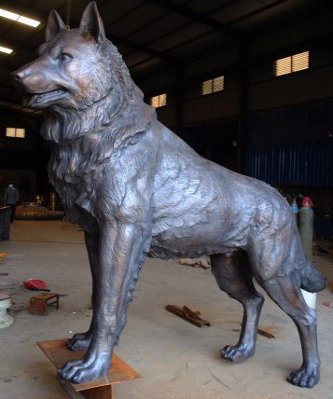 The news from Michigan Tech
---

---
---