Meet Michigan Tech's incoming class of 2021. Get a sneak peek at John Scott's Heart of a Husky clothing line. See our students roving on the moon. Learn more about our new human factors undergraduate degree and say hello to our new Dean of Students in this edition of 1400 Townsend.
In Demand
On August 30, 2021, Michigan Tech's classrooms, labs, and lecture halls were filled with 6,820 Huskies eager to start the fall semester—and who set records in the process.
Enrollment for the 2021-22 academic year brought a 23 percent increase in first-year student enrollment from fall 2020 and the largest incoming class the University has seen since 1982. The incoming class includes the highest number ever of first-year students from ethnically diverse communities, and the University also enrolled the highest number ever of students who identify as women. Full-time student enrollment increased 3 percent and incoming academic credentials remain the highest in University history.
In any year, these numbers would be worth celebrating. But on the heels of 2020—a year in which the COVID-19 pandemic overshadowed the myriad of factors that consistently affect college choice—Michigan Tech's enrollment results are remarkable, bucking nationwide trends and projections.
"We couldn't be more excited to welcome such an incredible class of talented students to the Michigan Tech family," said Michigan Tech President Rick Koubek. "We are a distinct research institution, offering opportunities and experiences unique to Michigan Tech. Students recognize that. That's why they want to be here."
John Scott Clothing Line
MTU alum and 2016 NHL All-Star Game MVP John Scott has partnered with Michigan Tech to launch the John Scott Heart of a Husky clothing line. Inspired by Scott's love for the University and local community, the apparel features imagery from the Copper Country and reflects Scott's reputation as an enforcer on the rink. Heart of a Husky gear—including T-shirts, hats, socks, and other products that support Michigan Tech hockey—will be available in University stores later this fall.
Forbes ranked Michigan Tech as one of the Top Colleges for Your Money. MTU was the only Michigan institution to be included on the September 2021 list of 26 colleges and universities.
What's the BIG Idea?
MTU Team Wins Artemis Award
In February 2020, NASA awarded nearly $1 million to eight selected university teams to compete in the Breakthrough, Innovative and Game-changing (BIG) Idea Challenge. A team from Michigan Tech was awarded $162,637. Other competitors included teams from Arizona State University, Dartmouth College, the Massachusetts Institute of Technology, Northeastern University, Pennsylvania State University, and the University of Virginia, plus a combined team from the Colorado School of Mines and the University of Arizona.
For the 2020 competition—the Lunar PSR Challenge—the teams were tasked with demonstrating different technologies and designs to study and explore the moon's permanently shadowed regions (PSRs), which NASA officials note are a formidable challenge for space exploration.
Their design, a rover called Tethered permanently shadowed Region EXplorer (T-REX), deploys a lightweight, superconducting cable to keep other lunar rovers powered and provide wireless communication as they operate in the extreme environments of the moon's frigid, lightless craters.
"Think about T-REX as a recharging station and comms tower in a small, portable package," said Marcello Guadagno, Michigan Tech's student lead on the project. "The whole time we were holding our breath and cheered when our team was announced as the winner of the competition. This was a major victory for our lab, which was only just founded in 2019."
T-REX received the Artemis Award, the top honor in the competition—a remarkable achievement, since most of the students' work on the rover took place while Michigan was on lockdown due to the COVID-19 pandemic.
"When we think about tenacity, one of our University's core values, it was important to keep everyone healthy and still move forward with the project," said Paul Van Susante, assistant professor of mechanical engineering at Michigan Tech and the T-REX team's faculty adviser. "The pandemic required us to adapt and overcome, and the team rose magnificently to that challenge."
Michigan Tech's team also received multiple peer awards: the Fly Me to the Moon award, after other university teams voted that Michigan Tech's team was most likely to go to the moon; and the Above and Beyond award (as Guadagno puts it, "We broke things and then unbroke them.") The T-REX crew also got the Welcome Llama for being the most inviting team: Specifically, at the start of the final virtual presentation, some Northeastern students accidentally stayed on the video conference long, so the Michigan Tech team welcomed them as new Huskies.
Watch Student Engineering Build a Lunar Rover—and Win BIG video
Student Engineering Build a Lunar Rover—and Win BIG
The Human Factor
Design with the Human in Mind
How can people use technology to improve work, society, and life? Students in Michigan Tech's human factors program set out to answer that question by studying human abilities and limitations, and how they apply to design.
In one of the first undergraduate programs of its kind in the nation, students explore how humans use, interact with, and think and feel about technology, and investigate the roles both humans and machines will play in solving the problems of tomorrow.
"Many of today's college students will eventually work in jobs and industries that don't yet exist," says Kelly Steelman, department chair and associate professor in the Department of Cognitive and Learning Sciences. "We intentionally designed the human factors curriculum to encourage students to develop both depth and breadth of skills. Human factors students will take courses from across campus and engage in multidisciplinary, project-based work to pick up the diverse skill sets needed to succeed in a rapidly changing world."
Huskies can choose one of three concentrations to customize their degree—systems thinking and design, human-computer interface design, or innovation and human-centered design—and take classes in psychology, systems engineering, human-computer interaction, usability, business, and design.
"The interdisciplinary nature of our program gives students the core foundation in human factors, plus the 'and' factor," says Steelman. "There are certain things that humans can do so much better than technology and other things that technology can do better than humans. Understanding both humans and technology—and how they interact—helps us to design systems that are efficient, safe, and satisfying."
Meet Our New Dean of Students
Wallace Southerland III joined the Michigan Tech family in July, bringing more than 30 years of experience in student affairs to his role as our new Dean of Students. Read our recent interview with Southerland to learn more about what brought him to Michigan Tech and his preliminary strategies for connecting with students and building relationships campuswide.
Service is part of my blood. My purpose in life is to be in service to others to help improve quality of life.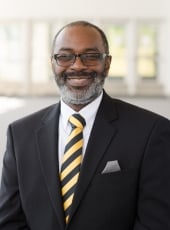 Michigan Technological University is a public research university founded in 1885 in Houghton, Michigan, and is home to more than 7,000 students from 55 countries around the world. Consistently ranked among the best universities in the country for return on investment, Michigan's flagship technological university offers more than 120 undergraduate and graduate degree programs in science and technology, engineering, computing, forestry, business and economics, health professions, humanities, mathematics, social sciences, and the arts. The rural campus is situated just miles from Lake Superior in Michigan's Upper Peninsula, offering year-round opportunities for outdoor adventure.