Sit more, move less. The past decade's trend was already a public health problem. Then the pandemic hit—and a team of health science graduate students turned it into an opportunity to help.
Through a graduate exercise physiology course taught by Steven Elmer, associate professor in the Department of Kinesiology and Integrative Physiology, nearly a dozen Michigan Tech students worked together to create a program called UP and Moving that aims to keep adults physically active during the pandemic and beyond. The free program delivers live and recorded workouts for community members to do in their homes. Since their first workout broadcast in October 2020, the team has produced hundreds of videos—all available on their YouTube channel—and engaged students, staff, faculty, alumni, and community members from Calumet to Texas.
Regular physical activity is a critical aspect of maintaining good health, and data indicates that during the pandemic, people moved less and sat more. This may have an effect on not only their long-term health beyond the pandemic, but according to recent research, puts them at higher risk for severe illness if they contract COVID-19.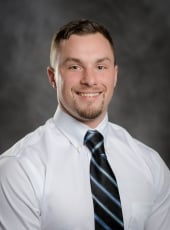 Now, the team has helped Michigan Tech earn silver-level recognition from the Exercise is Medicine On Campus program, plus a COVID Conqueror badge, which honors the importance of building and maintaining a culture of wellness, especially during a pandemic. Led by Elmer and Isaac Wedig, a doctoral student in integrative physiology at Michigan Tech, the team also produced bimonthly TV shows aired on ABC 10; a newspaper editorial on the importance of physical activity during the pandemic; blog posts for the American Physiological Society's I Spy Physiology Blog; an exercise infographic that's been downloaded more than 19,000 times; and podcasts with the Portage Health Foundation and Copper Country Today.
"All of this is to keep people active and moving. With a little creativity, physical activity can be performed safely right from home," says Elmer, who found workout session 66 was the most difficult for him, and has led several of the workouts himself. "If I'm going to ask my students to do it, then I have to lead by example."
The home-based videos cover a range of workouts: strength training, circuits and balance, full-body stretches, yoga—even a Winter Carnival-inspired episode. From soup cans to broomsticks to weaving in photos of scenic hikes from around the Keweenaw, the team embraced thinking "inside the box"—reasoning that if people were limited to their living rooms, kitchens, and equipment on hand, then the workouts needed to fit inside everyone's shared pandemic reality. The hope: Even as the pandemic made people sit more and move less, that UP and Moving will inspire and empower more at-home exercise, even after gyms fully reopen and coworkers can walk together to grab coffee.
Our Michigan Tech and local community is like a second home—we want to all take care of each other. So, staying active together is important, and no matter how we start off the day, by the end of a workout you can tell everyone feels better.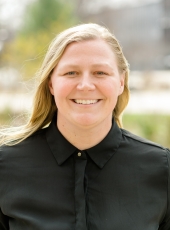 Elmer also co-led community town hall discussions on COVID-19 with topics ranging from the role of public health in protecting the community to the impact of the pandemic on physical and mental health, vaccine science and rollout, and the environmental effects of the pandemic. He says there a several lessons the team learned by starting UP and Moving.
Find a Way to Help. Students leveraged their expertise and contributed to the COVID-19 response within their community. The videos took students' exercise physiology and physical therapy skills out of the classroom, lab, and clinic into people's homes.
Teamwork is Key. A team includes 10-plus students from three academic departments (Kinesiology and Integrative Physiology, Biological Sciences, and Physical Therapy) from both Michigan Tech and Central Michigan University. The program served community members and MTU students through a virtual physical education cocurricular class. As Elmer says, "No one person alone could have delivered 120-plus workouts in two semesters."
It's Important to Stay Active During the Pandemic. Physical activity is about moving, not gym memberships, swanky brands, or expensive equipment. UP and Moving focused on how to do the most beneficial and efficient workouts possible with what's on hand. Engaging in regular amounts of weekly physical activity reduces risk for severe illness from COVID-19 and many other chronic diseases. In short, physical activity in general is one of the most powerful forms of medicine we have.
Build Resilience. The program shows students how to roll with challenges, refocus on positive outcomes, build and share hope, and envision a better health system to support everyone's well-being regardless of money, race, geography, and physical ability.
Be a Leader. During the pandemic, the team stepped up and provided a valuable service to the community. They led by example, advocated for the importance of physical activity, shared their workouts through many platforms, and impacted the lives of their fellow students, friends, and families.
The team involved with UP and Moving includes students who are pursuing careers in health science, health care, and health and fitness. We started with an idea and have created a program where we can improve the health of others in the comfort of their homes. As students and future health-focused professionals, we gain valuable experience and knowledge when it comes to working with community members that will carry over into our future careers.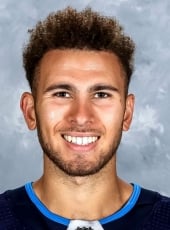 The program now has funding from the Michigan Health Endowment Fund and Blue Cross Blue Shield, and when people ask if the UP and Moving program will continue, Elmer says, "Absolutely."
"The pandemic exposed so much about the health challenges and inequalities we are dealing with in this country. The long-lasting effects from the pandemic will be felt for quite some time and now is the time to double down and work to address these issues," he says. "Now that everything is in place, UP and Moving will continue to be an essential program for promoting physical activity in the community while at the same time providing hands-on experience for our students. Our long-term goal is to work with local primary care providers to establish physical activity as vital sign of health."
Specifically, that means providers assess physical activity level during patient exams, prescribe physical activity as medicine when appropriate, and refer patients to exercise professionals and programs—and UP and Moving is ready for those referrals. "We are excited to continuing to offer UP and Moving during the pandemic and beyond," Elmer says.
Watch Winter Carnival Workout video
Winter Carnival Workout
Just in time for every Husky's favorite holiday, graduate student Ari Laiho led a workout inspired by the movements, strength, and balance needed to build snow statues. Remember to lift snow with your legs!
Michigan Technological University is a public research university founded in 1885 in Houghton, Michigan, and is home to more than 7,000 students from 55 countries around the world. Consistently ranked among the best universities in the country for return on investment, Michigan's flagship technological university offers more than 120 undergraduate and graduate degree programs in science and technology, engineering, computing, forestry, business and economics, health professions, humanities, mathematics, social sciences, and the arts. The rural campus is situated just miles from Lake Superior in Michigan's Upper Peninsula, offering year-round opportunities for outdoor adventure.