Feel the spirit of understanding and unity as international residents and visitors from more than 50 countries wearing their finest traditional dress set the tone for a grand global display of flags, floats and fanfare. Look for the legendary Blizzard T. Husky, Michigan Tech's warm and fuzzy mascot, and Riku F. Lion, Finlandia University's "Mane" man. Other Parade of Nations stars include the high-energy, crowd-pleasing Huskies Pep Band. As always our First Nation leads the procession, in respect and celebration for the Native Americans who were first to call this place home.
The 2023 Parade of Nations begins at 11:00 AM on Saturday, September 16th from the Quincy Green in Hancock and ends at the Dee Stadium in Houghton. Spectators are welcome to line the parade route along Quincy Street in Hancock and Shelden Avenue in Houghton.
For more information contact paradeofnations@mtu.edu or 906-487-2160.
Participate in the Parade
The Parade of Nations' purpose is to showcase the culture and countries represented in the Keweenaw.
Everyone is welcome to walk in the Parade of Nations.
A person can choose to walk with any of the represented countries.
One flag and one sign will be provided per nation.
Any person can request a flag of any country that they wish to represent by completing the Flag Request Form.
Flag pickup and parade line up begin at 10 AM and we ask that all participants arrive by 10:45 AM.
The Parade of Nations starts promptly at 11 AM.
Entering a Float in the Parade
The float contest returns this year! Every registered float will be entered to win prize money, $300 for 1st place, $200 for 2nd place, and $100 for 1st place.
All floats must be designed according to this year's Parade of Nations theme.
All floats must be registered for parade participation by completing the Float Application and receiving an email granting approval.
A float can be a decorated vehicle, a vehicle pulling a decorated trailer, or other motorized or non-motorized conveyances that serves as a platform for a decorated display, exhibit, and/or performance.
Please only submit one request per group. Applications will be reviewed and approved on a rolling basis. You will be contacted within 5 business days of submitting the form.
Student Organizations are eligible for up to $100 in grant funding to build their float. The grant application is included as part of the float application.
Promotion of political parties is not permitted due to the nature of this event.
On parade day, each float will be checked to ensure all guidelines are being followed and that the float matches the description on the application. The PON Committee reserves the right to deny float participation on the day of the parade.
Handing out or gently tossing candy a short distance is permitted. Avoid throwing it.
Tips and Tricks for Building a Float
Floats add so much to a parade! At the Parade of Nations, students as well as community float entries are welcome. We appreciate your efforts to make the Parade of Nations a spectacular event! If you want to build a float, here are some steps to help you get going in the right direction.
The sooner you begin the better. Start with a group of six to twelve to tackle the main tasks: Budget, theme, structural design, decorating and communications.
Spend time in design before you gather materials or begin building. How will your float fit the Parade of Nations theme? Does it comply with all the shared guidelines? How will you interact with the crowd? Explore Pinterest boards and other online resources for ideas and sources on where to find materials.
Set a budget. Save costs by re-purposing and borrowing tools and materials. If you can, invest in quality materials for flooring and other items that can be re-used to save future time and expense. Find inexpensive decorations at discount, dollar, craft, hardware or thrift stores locally or online. St. Vincent De Paul (Hancock), Goodwill (Houghton) and the Habitat for Humanity ReStore (Calumet) are among places to check.
Students may also qualify for a small grant to help with expenses.
Ask a farmer, construction company, landscaper or a snowmobiler to loan a trailer or vehicle. Offer to list the sponsor name on your float.
Stock basic household tools: Saws, screw guns, hammers, nails, and a heavy-duty stapler. Use tools properly with appropriate safety equipment, including eye protection.
Gather helping hands for the actual building and to help hold structures in place. Share a potluck meal or host a cookout. Enjoy!
Coordinate transportation to the parade line-up. Assign meeting time and place in advance. Decide beforehand who rides on the float, who walks and who drives. During the parade keep the driver's view clear.
Looking for some inspiration?
Check out these award winning floats from the 2022 Parade of Nations.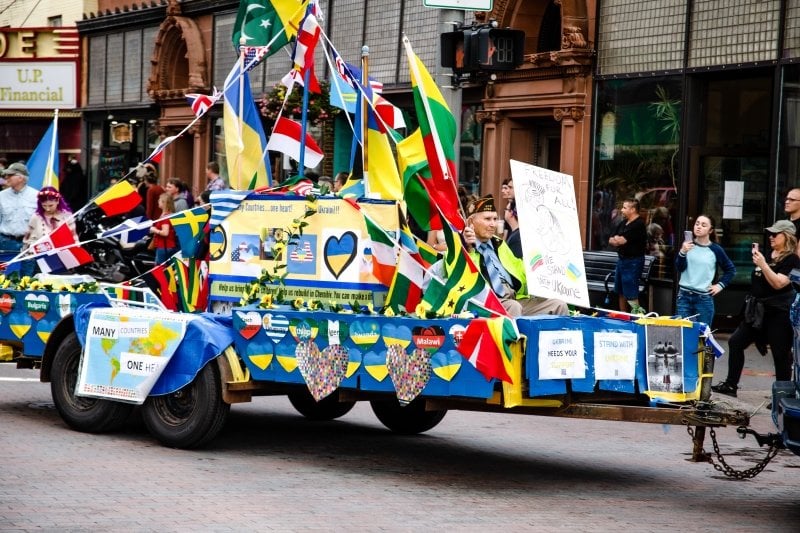 Float made by the Fulbright Students' Association won the first prize in the Float Contest at PON 2022
---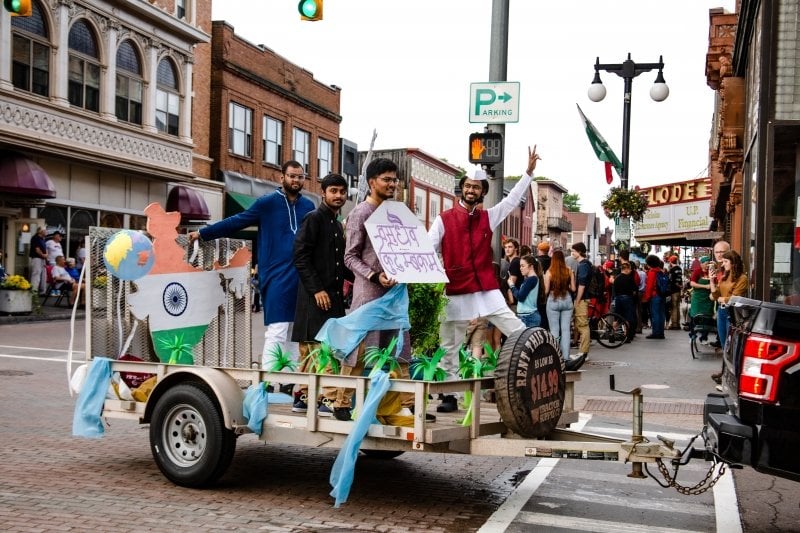 Float made by the Indian Students Association won the third prize in the Float Contest at PON 2022
---
Distributing Candy or Other Items
Candy is allowed. But remember, never throw candy! Gently toss it a short distance or hand it out. Nobody wants to run out of candy before the end of the parade. So if you decide to pass out treats, our parade experts advise stocking the equivalent of two five-gallon pails. Use small sand buckets to divide up the supply if you have several people handing goodies out. For no-sugar options, you may consider beads, bracelets, stickers or other small, inexpensive trinkets. You may find good deals ordering in quantity online. It also doesn't hurt to ask local merchants for a parade-special discount.
Volunteering at the Parade of Nations
This amazing celebration of unity and culture relies on the support of community volunteers. Volunteers are needed to work throughout the parade and multicultural festival to assist with tasks such as flag distribution, carrying continent banners, and cleanup after the event. Register to volunteer today!