Beatrice Quarshie Smith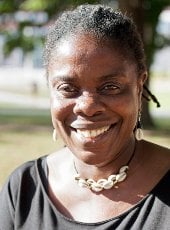 Contact
Emeritus Professor of Literacy Studies, Humanities
PhD, English Studies, Illinois State University
MA, Linguistics and the Modern English Language, University of Nottingham
BA, English and Linguistics, University of Ghana
Biography
Professor Smith researches the intersections of language, literacy, globalization, gender relations, economics and technology. Her recent book Reading and writing in a global workplace: gender, literacy and outsourcing in Ghana (2012) explores the literacy conditions of women working in data-processing outsourcing centers. Her research on this topic has been supported by the American Association of University Women and by the Jean Campbell Research Fellowship of the Center for the Education of Women at the University of Michigan.
Specialties
Literacy Studies
English as a Second Language
Quarshie Smith, B (2012). Reading and writing in the global workplace: Gender, literacy and outsourcing in Ghana. Lanham, MD: Lexington Press. Read More
Quarshie Smith, B. (2007). Researching hybrid literacies: Methodological explorations of "ethnography" and the practices of the "cybertariat." In DeVoss, D. & Mckee, H. Digital writing research: Technologies, methodologies, and ethical issues. Cresskill, NJ: Hampton Press.
Quarshie Smith, B. & Hiles, J. (2006). Genre development in first grade. Illinois Reading Council Journal, 34, 34-48.
Quarshie Smith, B. (2006). Outsourcing and digitized work spaces: Some implications of the intersections of globalization, development and work practices. Journal of Adolescent and Adult Literacy, 48, 596-607.
Quarshie Smith, B. (2006). Globalization and the desire to produce: A case study of international graduate student education in Literacy Studies. Journal of Studies in International Education.
Smith, Beatrice B., "All our relations: Mapping space and knowledge creation in the "global" now.", Conference on College Composition and Communication, National Council of Teachers of English, Atlanta, GA, Oral. (April 6, 2011 - April 9, 2011).
Are our hands clean?: Remixing and rethinking first year writing. CCCC, March 2010, Louisville, KY.