Lei Pan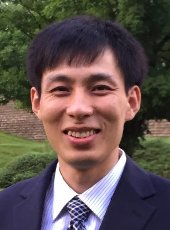 Contact
906-487-2569
Chem Sci 401C
Associate Professor, Chemical Engineering
PhD, Mining Engineering, Virginia Polytechnic Institute and State University
MS, Mining Engineering, Virginia Polytechnic Institute and State University
BS, Mineral Processing Engineering, Central South University, China
Biography
Lei Pan joined the Department of Chemical Engineering at Michigan Technological University as Assistant Professor in Fall 2016 after having served as a postdoctoral researcher at Virginia Polytechnic Institute and State University.
Pan's research focuses on surface chemistry and process modeling of particulate separation processes. The goal is to improve process efficiency, understand underlying mechanisms, and reduce the environmental impacts of mineral processing operation.
Links of Interest
Research Interests
Particulate Separation
Surface Chemistry
Process Modelling
Pan, L., and Yoon, R.-H., "Measurement of Hydrophobic Forces in Thin Liquid Films of Water between Bubbles and Xanthate-treated Gold Surfaces", Miner. Eng., 2016, 98, 240-250.
Yoon, R.-H., Soni, G., Huang, K., Park, S., and Pan, L., "Development of a turbulent flotation model from first principles and its validation", Int. J. Miner. Process., 2016, 156, 43-51.
Pan, L. and Yoon, R.-H., "Direct measurement of hydrodynamic and surface forces in bubble-particle interactions", in Proceedings of XXVII International Mineral Processing Congress, Chile, 2014, pp. 242-251.
Pan, L., Jung, S. and Yoon, R.-H., "A fundamental study on the role of collector in the kinetics of bubble-particle interaction," Int. J. Miner. Process, 2012, 106-109, 37-41.
Pan, L., Jung, S. and Yoon, R.-H., "Kinetics of thinning of the wetting films formed on the gold surfaces treated with potassium amyl xanthate," in Separation Technologies, for minerals, coal, and earth resources, edited by C.A. Young, G.H. Luttrell, Society for Mining, Metallurgy and Exploration, 2012, pp.57-64.
Pan, L., Jung, S. and Yoon, R.-H., "Effect of hydrophobicity on the stability of the wetting films of water formed on gold surfaces," J. of Colloid and Interface Sci., 2011, 361, 321-330.
Pan, L. and Yoon, R.-H., "Hydrophobic forces in wetting films of water formed on xanthate‐coated gold surfaces," Faraday Discuss., 2010, 146, 325-340.