CPT Paul S. Weiss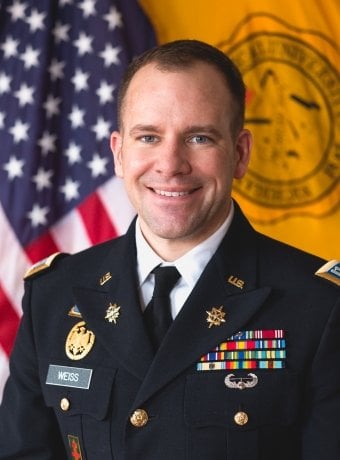 Interim Chair, Army Reserve Officer Training Corps
Assistant Professor of Military Science
MSII Instructor
Biography
Captain Paul Weiss enlisted in the Wisconsin Army National Guard in 1999 as a Transportation Specialist (88M). While serving with 1-128INF BN, 32 INF BDE he completed on combat tour in Iraq in 2005. He later served as a Forward Observer (13F). Concurrent with serving in the National Guard, CPT Weiss studied at the University of Wisconsin-Stout and completed a Bachelor of Science in Applied Mathematics in 2006.
Following a short break in service CPT Weiss joint the Army ROTC program at UW-Stout while completing a Master of Science in Operations and Supply Chain Management. In 2013, CPT Weiss commissioned as a Military Intelligence Officer and his first assignment was an Assistant S2 with 2-6 INF (Wolfhounds), 25 IBCT. As the Asst. S2 with 2-27 INF, CPT Weiss participated in Pacific Pathways training with the Singapore Army on the "Big Island" and the Japanese Army in Osaka, Japan.
Prior to arriving to Michigan Tech, CPT Weiss served as the Brigade Assistant S2 with 1-25 SBCT (Arctic Wolves) in Fairbanks, AK at Fort Wainwright. He finished his tour in exercises with the Canadian Army while serving in Alaska. In 2019-2020, CPT Weiss completed his second combat tour in Iraq where he served as the Task Force S2 and primary intelligence Advisor for four Iraq Army Divisions securing Wester Iraq.
Military schools include: Basic and AIT (88M), Basic Officer Leaders Course (MI), Captains Career Course (MI), Air Assault, Combative and Intel Support to Information Operations.