LTC Tide Gile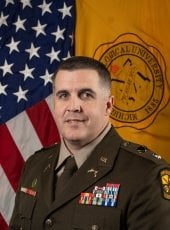 Chair, Army Reserve Officer Training Corps
Professor of Military Science
MA, Policy Management, Georgetown University
BS, Sports Medicine, University of Wisconsin – Stevens Point
Biography
LTC Tide D. Gile leads a multi-faceted staff of instructors and staff to train and educate over 50 student cadets at the university. He also provides direct personal, professional and academic coaching, teaching and mentorship for all cadre and cadets to build future leaders for the U.S Army, National Guard and U.S. Army Reserve. LTC Gile is a graduate of the University of Wisconsin – Stevens Point where he earned his commission through the Army Reserve Officer Training Corps in 2007. His degree of study was in Sports Medicine, with a minor in Military Science.
Prior to his current position, LTC Gile was the Chief of Plans and Exercises, 181 st Multi-Functional Training Brigade, Fort McCoy, Wisconsin. There he served as the primary Brigade planner supporting Operation Allies Welcome, six U.S. Army Reserve training exercises which trained over 25,000 U.S. Army Reserve Soldiers and started the planning effort for how the Brigade would support the Large-Scale Mobilization of U.S. Army Reserve and National Guard Soldiers at Fort McCoy, Wisconsin.
LTC Gile has previously served in leadership positions in a variety of Army assignments at installations throughout the United States, the Republic of Korea, Germany, Iraq and Afghanistan. As the Iraq Desk Officer on the Joint Staff, he worked as member of an inter-governmental team tasked to develop the U.S. National Strategy for Iraq, signed by the President. As a planning officer on the Army Staff, Office of the Provost Marshal General, he led an Army wide planning effort to ensure there was adequate Military Police resources and support allocated to the U.S. Forces in Korea in the event of military conflict with hostile neighboring countries.