CPT Nathan Lahti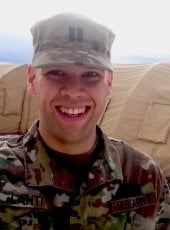 Assistant Professor of Military Science
Biography
Captain Nathan M. Lahti entered the United States Army in 2003 enlisting into the Michigan National Guard as a 12B Combat Engineer with Calumet MI's 107th Engineer A Company. Shortly after in late 2004 through 2005 he deployed in support of Operation Iraqi Freedom attached to Iowa's 224 Engineer Battalion as a member of an Assault and Obstacle (A&O) platoon. He spent the majority that deployment in Anbar Province and helped to support Iraq's first democratic elections.
In 2010, he received a direct commission as a second lieutenant in the Army Nurse Corps. He was assigned to Joint Base Lewis-McChord (JBLM), Washington's Madigan Army Medical Center working first as a Medical-Surgical nurse and then in its Post Anesthesia Care Unit. In 2015, he transitioned to the Army Reserve and joined the 807th Medical Battalion's 452nd Combat Support Hospital Det. 1 and served there until his current assignment to the 4-414th Regt SROTC to support ROTC training at Michigan Technological University.
Captain Lahti holds a Bachelor of Science degree in Nursing from Northern Michigan University. As a civilian he is the Education Coordinator, Emergency Manager, Telemedicine Coordinator, and Patient Satisfaction Officer for Baraga County Memorial Hospital. His military awards and decorations include the Meritorious Unit Commendation, Army Commendation Metal, Army Good Conduct Medal, Combat Action Badge, National Defense Service Medal, Army Service Ribbon, Overseas Service Ribbon, Armed Forces Reserve Medal W/ M Device, Global War on Terrorism Service Ribbon, Iraqi Campaign Medal, and US Army Engineer Trail Blazer Award.