Colleen Klausner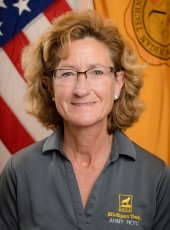 Human Resource Administrator
Biography
Colleen S. Klausner transferred to Michigan Technological University, August 2016, from the University of Toledo's ROTC program. She spent four years as a junior officer in Germany and retired with the US Army Reserves as a Lieutenant Colonel. She earned her commission from the Virginia Commonwealth University in 1986. Before working with ROTC programs, she spent 14 years in sales while raising three boys who are all currently serving in the military. Her husband, Kent, is a proud graduate of Michigan Tech and commissioned from this program.
Ms. Klausner earned a Bachelor of Science degree in Business Administration from Virginia Commonwealth University and a Masters of Science in Liberal Studies from the University of Toledo. She was commissioned through Army ROTC, branched Quartermaster Corps, entered active duty in 1986 and was stationed in West Germany within the 21st Support Command. She left active duty in 1990 and transferred to the Army Reserves where she served in the 104th Training Division, 19th Material Management Center, 84th Training Division, 645th Area Support Group and 8th Army. She has held various leadership and staff positions as Platoon Leader, Accountable Officer, Detachment Commander, Battalion and Brigade S-4/Property Book Officer, and Staff Training Officer. In 2003, she was part of the initial deployment of troops to Baghdad, Iraq in support of what we now know as Operation Iraqi Freedom.
Ms. Klausner is a graduate of the Quartermaster Officer Basic and Advanced Courses, the Combined Arms and Services Staff School, the Army Command and General Staff College and the Army Airborne Course. Ms. Klausner retired from the army reserves in 2014 at the rank of Lieutenant Colonel. As a civilian, she has worked in sales for 16 years and as a Human Resource Administrator for six years.