Meet SENSE — Strategic Education through Naval Systems Experiences — an undergraduate research team with on-the-job skills up their sleeves and maritime tech projects under their belts.
With four projects underway and one wrapping up, seven SENSE team members share the rigors and rewards of their endeavors, what it's like to work with faculty and industry mentors and why it makes sense for any student to fit Enterprise into their schedules. Or, as team member Fiona Chow sums it up: "Cool people. Cool projects. Cool advisors."
Meet the Advisors
SENSE, one of Michigan Technological University's 25 Enterprise Program teams, got its start from alumnus, acoustic researcher and Great Lakes Research Center (GLRC) Director Andrew Barnard '02 '04. "Dr. B," as his students call him, has a strong background in defense projects, particularly for the U.S. Navy, and formed SENSE to get undergraduates excited about naval architecture and systems.
MTU alumnus Timothy Havens '99 '00, the William and Gloria Jackson Associate Professor of Computer Systems and associate dean for research in the College of Computing, recently joined Barnard as co-advisor after working with the team on one of its projects.
As with all Enterprise teams, students from any major are welcome to join and spend three to four years learning how to improve their designs and prepare for in-demand careers.
Fiona Chow is a management information systems major projected to graduate in '23. Four of the Huskies who contributed their insights are mechanical engineering (ME) majors, including Stevie Carson '23. "The best part of Enterprise is being able to work with real-world sponsors to gain valuable skills," Carson said. "The most challenging part is to take a concept or idea you've never worked with before and develop a design or prototype that is useful for the sponsor."
The other three ME majors — Andrea Udovich '21, projected '22 grad Spencer Seeley and projected '23 grad Seth Olson — are pursuing minors in naval systems (Olson also minors in art). Dillon Bennetts, a mechanical engineering technology major projected to graduate in '22, also opted for the naval systems minor. Anna Isaacson '21 is a materials science and engineering major.
Udovich, SENSE Enterprise program manager, appreciates how Enterprise gives engineering majors a chance to explore and choose a project they're excited about for the required Senior Design project. Beyond capstones, though, she is grateful for the stepping stone to a community where you'll meet interesting people and find friends.
"I highly recommend joining an Enterprise! As a transfer student, I had less time to create strong connections with other students. Enterprise has provided a great opportunity for that."
Even if you're not interested in Department of Defense work, SENSE is worth joining, says Isaacson: "All of the project work is applicable to every major and the opportunities to see cool stuff and work on real-world problems is priceless."
Isaacson manages the Mass Rescue project, which got a boost of encouragement in fall 2020 when sponsors flew in, bringing pilots, mechanics and rescue swimmers, on the Coast Guard helicopters Jayhawk of Traverse City and Dolphin of Detroit.
Watch Husky Enterprise Teams Up with US Coast Guard video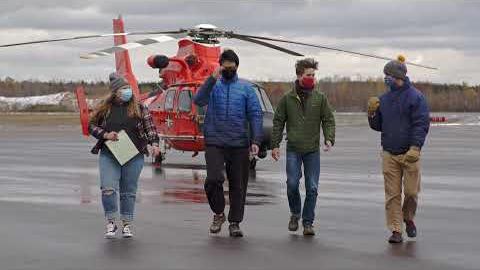 Look who flew into Houghton — crews from the U.S. Coast Guard helicopters Jayhawk (Traverse City) and Dolphin (Detroit). The SENSE Enterprise team at Michigan Tech is working with them to create a lighter, easily deployable, more effective mass rescue craft.
Mass Rescue Craft Project
The team is working on a lightweight, rapidly deployable foam emergency craft in collaboration with the U.S. Coast Guard and Air Force Research Laboratory.
For Isaacson, it's an engaging project in a string of exciting opportunities. Her favorite? "General Dynamics Land Systems (GDLS) was my first project in the Enterprise," she says. "We worked on the integration of exoskeleton technology in military vehicles. I was able to tour the GDLS state-of-the-art lab and get up close and personal with military vehicles and military testing."
"I've worked with multiple project sponsors, from General Dynamics Land Systems to the Air Force Research Laboratory to the U.S. Coast Guard. These sponsors have really shaped my interests and shaped what I want to do with my future. Plus, it's a pretty cool thing to brag about!"
Project sponsors make Enterprise possible. It's a learning experience for students and mentors alike, and Seeley says it helped him fend off academic burnout. "The best part is the way it lets you use your skills for something other than bland homework and exams. The most challenging is that it makes you actually use those skills in a way you aren't perfectly prepared for," he says. "Our problems are usually more difficult than a problem out of a book."
"If you are struggling to find joy in your engineering classes, do Enterprise. It's a fun, challenging and engaging way to really use your 'boring' skills from your other classes."
Carson, another team member, says Coast Guard and Air Force representatives are outstanding mentors. "I like working with them because they give me a real sense of how the workplace operates," he explains. "It's win-win," adds Udovich, who worked with Coast Guard representatives and currently collaborates as project manager on an endeavor sponsored by Ford. "We have a chance to learn from the sponsor and to produce an amazing project that could be of great use to the company," she continues. "The sponsor has the chance to create with young, bright hardworking students. Both benefit from the mentorship."
Ford MEFASO Team
MEFASO stands for Making Experiences with Ford Acoustic Sensor Odysseys. The team is working with Ford to design an acoustic collection system for vehicles that can explore machine learning applications with large data sets.
"It's been a great experience to work with Ford engineers. They understand that we are on this exploration path together to work on new technologies and have lots of useful insights."
The group recently divided into three subteams. The first deals with hardware, including weatherizing cords and connections outside the system box. The weather station subteam finds ways to integrate the station with the data acquisition system and the LabVIEW subteam develops code for the system.
Ford MEFASO is Olson's first project, and he considers it a great introduction to working on real-world solutions. "The best part is the variety of experiences," he says. "The most challenging part is waiting on parts."
NEEC Under Ice Acoustic Project Team
Sponsored by the Naval Engineering Education Consortium (NEEC), the group works on transducer integration, data acquisition and data collection and curation, along with outdoor housing design, to develop a machine learning algorithm that can accurately detect objects on top of ice from below its surface.
The students who shared insights for this Unscripted don't directly work on the project. But the group doesn't operate in silos, said Chow, who is the team public relations officer and works on the Ford MEFASO project. "Because we're a smaller Enterprise we are able to get to know each other well and get to know a lot about the other projects within SENSE by asking questions and getting involved with testing or when other extra help is needed," she says.
SERC Buoyancy Compensation Device
The project, sponsored by the Department of Defense's university-affiliated Systems Engineering Research Center (SERC), involves designing and prototyping a device for the Navy. Bennetts is a team engineer.
"The best part of being on this Enterprise are the trips and the high-level projects we get," he says. "The reports are the most challenging."
The device specifically can be used on small underwater vehicles to adjust buoyancy based on changes in salinity.
Watch SENSE Enterprise at Michigan Tech video
Head down to the GLRC docks for a flashback to SENSE projects underway in 2019.
NERD (Nautical Emergency Rescue Device)
NERD isn't just a mindset (one many Huskies proudly claim). It's the acronym for an affordable and remote-controlled rescue device akin to a mechanized life ring. It can be sent to rescue someone in the water without the danger of swimming out to them or the wait time of launching a boat.
NERD, the team's longest-running endeavor, received sponsor support from Keweenaw Bay Indian Community. The project has officially run its course, but the sense of fulfillment and the applications for this kind of lifesaving device continue.
Udovich says NERD was her first Enterprise project and is still a favorite: "We truly had the opportunity to design, build and optimize an amazing device with the potential to save lives. It shows that the work Enterprises do has the chance to make a difference in the world."
SENSE is tight-knit, said Chow. Her favorite project so far is the Diver Vision System project, her first with the Enterprise. Relatively free rein and a warm welcome contributed to the quality of the experience. "Our sponsors had minimal parameters for us to fulfill and present the proof of concept, so we were able to use our full creativity to determine the project's direction and develop a solution in the way we best saw fit," she says. "I felt immense support from all members. They made sure I was included, learning, and had a way to contribute to the project."
Michigan Technological University is a public research university founded in 1885 in Houghton, Michigan, and is home to more than 7,000 students from 55 countries around the world. Consistently ranked among the best universities in the country for return on investment, Michigan's flagship technological university offers more than 120 undergraduate and graduate degree programs in science and technology, engineering, computing, forestry, business and economics, health professions, humanities, mathematics, social sciences, and the arts. The rural campus is situated just miles from Lake Superior in Michigan's Upper Peninsula, offering year-round opportunities for outdoor adventure.