An unprecedented event for unprecedented times: one of Michigan Tech's most important and innovative events is going virtual. You're invited to Design Expo 2020.
What do a smart pet door, a lunar trencher and a portable high-speed surgical drill for underserved populations have in common? They're among the hundreds of life-improving undergraduate student projects on display at Michigan Technological University's 20th annual — and first virtual — Design Expo 2020 on Thursday, April 16.
All Welcome To Expo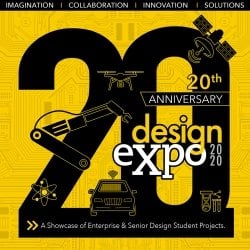 Michigan Tech's Virtual Design Expo 2020 takes place throughout the day on Thursday, April 16. Here's how to register and be a part of activities:
Visit the Design Expo project gallery.

Take part in text-messaged voting throughout the day.

Attend the brief 10 a.m. kickoff.

Tune in at 4 p.m. for the 30-minute awards ceremony.
Huskies aren't allowing the challenge to stem the spread of COVID-19 prevent them from celebrating an important milestone for real-world, discovery-based learning at Michigan Tech. With challenge comes opportunity: the opportunity to demonstrate agility and new thinking, to pull together as a community and to realize and maintain a focus on students and the bright future they will create.
Nothing Can Stop MTU Husky Innovation
"For 20 years, Design Expo has focused the spotlight on thousands of student teams as they embrace design challenges and push through adversity to develop solutions and communicate results. It should come as no surprise at all that when COVID-19 disrupted our well-established plans for a traditional ballroom event, we found inspiration in our students," said Rick Berkey, director of Michigan Tech's award-winning Enterprise Program.
Instead of gathering on campus this year, a panel of judges will critique videos of team projects, solutions and results. Judges include distinguished corporate representatives, alumni, community members and Michigan Tech faculty and staff. As in past years, teams have a chance to earn cash awards along with well-deserved recognition.
Design Expo has always been open to the public. "Now that it will be held online, I'm glad it will be much more accessible for others to share," said Janet Callahan, dean of the College of Engineering. "This year visitors to Design Expo can vote on their favorite projects, too, via text message."
"We invite all current and future students, families of students, alumni, K-12 teachers and their students — anyone and everyone — to please join us, and spread the word!"
MTU Huskies Learn By Doing
Design Expo showcase represents the work of more than 1,000 students from the University's Senior Design and Enterprise programs. At Michigan Tech, the Senior Design program is more like a first job than a last class, where teams of highly dedicated senior-level students address practical, open-ended design challenges. In Enterprise, interdisciplinary teams of first-year through graduate-level students from more than 30 majors work in a business-like setting to invent products, provide services and pioneer solutions.
A Big Day for Industry Sponsors, Too
Design Expo is supported by industry and University sponsorship. For the ninth consecutive year, ITC Holdings is directing partner of Design Expo. Supporting partners include Kohler, Nexteer Automotive and OHM Advisors. Collaborating partners include Code Blue, FCA, Kimberly-Clark, Michigan Tech's Husky Innovate, Nucor and Plexus.
In all, more than 100 team project and program supporters made a strategic investment in Michigan Tech's educational mission.
Michigan Technological University is a public research university founded in 1885 in Houghton, Michigan, and is home to more than 7,000 students from 55 countries around the world. Consistently ranked among the best universities in the country for return on investment, Michigan's flagship technological university offers more than 120 undergraduate and graduate degree programs in science and technology, engineering, computing, forestry, business and economics, health professions, humanities, mathematics, social sciences, and the arts. The rural campus is situated just miles from Lake Superior in Michigan's Upper Peninsula, offering year-round opportunities for outdoor adventure.