Nazmiye Bihter Yapici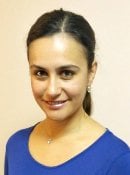 Postdoctoral Associate, Physics
PhD, Chemistry, Michigan Technological University, Houghton, MI (2013)
MSc, Chemistry, Middle East Technical University, Ankara, Turkey (2008)
BSc, Chemistry, Middle East Technical University, Ankara, Turkey (2006)
Statement
Enthusiastic, innovative, and award-winning professional with broad research and development (R&D) experience spanning organic chemistry, analytical chemistry, biochemistry, and biophysics. Demonstrated strengths in lead method development and direction, lab management, and staff/student training. Valued interdisciplinary team member with excellent writing and presentation skills, collaborative nature, talent for mastering new methods and techniques, and passion for creating novel technologies. Works efficiently in a fast paced interdisciplinary environment to deliver results to colleagues and collaborators. Bilingual in English and Turkish.
PhD Dissertation: Tuning Fluorescent Agents for Facilitating Biological Studies
MSc Thesis: Synthesis of 2-Aminopyrrole-3-carboxylates via Zinc Perchlorate Mediated Annulation of α-Cyano-δ-ketoesters with Amines
Links of Interest
Proficiencies
Project Management
Product Development & Commercialization
Analytical Testing
Assay Design & Assay Development
Instrumentation
Troubleshooting
Lab Experience
GLP
Validation
Problem Solving
Team Leadership
Multi step synthesis
Grant & Proposal Writing
Recent Publications
Nazmiye B. Yapici, Y. Bi, P. Li, X. Chen, X. Yan, S. Mandalapu, M. Faucett, S. Jockusch, J. Ju, M. Gibson, W. J. Pavan and Lanrong Bi, Highly Stable and Sensitive Fluorescent Probes (LysoProbes) for Lysosomal Labeling and Tracking, Nature Scientific Reports, 2015, 8576.
Nazmiye B. Yapici, S.R. Mandalapu, Satya-Khuon, Teng-Leong Chew, Lanrong Bi, Determination of intracellular pH using sensitive, clickable fluorescent probe, Bioorg. Med. Chem. Lett., 2012, 2440.
Nazmiye B. Yapici, S. Jockusch, A. Moscatelli, S.R. Mandalapu, Y. Itagaki, D.K. Bates, S. Wiseman, K.M. Gibson, N. Turro, Lanrong Bi, New Rhodamine Nitroxide Based Fluorescent Probes for Intracellular Hydroxyl Radical Identification in Living Cells, Org. Lett., 2012, 50.
Ayhan S. Demir, M. Emrullahoglu, E. Pirkin, Nazmiye B. Akca, Darzens Reaction of Acyl Phosphonates with α-Bromo ketones: Selective Synthesis of cis- and trans- Epoxyphosphonates, J. Org. Chem, 2008, 8992.