Katrina Black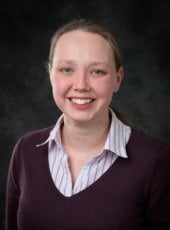 PhD Physics, University of Maine
BS Physics, Michigan Technological University
Research Interests
Physics Education Research is concerned, in part, with how physicists and physics students organize and communicate their knowledge of physics. I am particularly interested in how upper level students bring their understanding of mathematics into the physics classroom, and how it can be appropriately modeled using large-scale, stable knowledge ("conceptions"), small-scale, flexible knowledge ("pieces" or "resources") or a combination of the two.
Publications
M.C. Wittmann and K.E. Black. "Mathematical actions as procedural resources: An example from the separation of variables." Phys. Rev. ST Phy. Educ. Res. 11, 020114 (2015)
M.C. Wittmann and K.E. Black. "Visualizing changes in pretest and post-test student responses with consistency plots." Phys. Rev. ST Phys. Educ. Res. 10, 010114 (2014)
M.C. Wittmann, V.J. Flood, and K.E. Black. "Algebraic manipulations as motion within a landscape." Educational Studies in Mathematics 82.2 (2013).