Sometimes all the elements you need to achieve a goal are found close to home. Just ask the two featured speakers at Michigan Technological University's 2022 Spring Commencement.
The ceremony, at 10:30 a.m. Saturday in the John J. MacInnes Student Ice Arena, is a milestone for more than 950 Huskies receiving their hard-earned bachelor's, master's and Ph.D. degrees. They'll be addressed by student speaker Brooke Tienhaara, who will earn her B.S. in Medical Laboratory Science (MLS) with a minor in philosophy and ethics, and commencement speaker John U. Bacon, a bestselling author who serves on Michigan Tech's Board of Trustees.
An Education Journey Set in the Heart of the Keweenaw
Tienhaara, who grew up in Calumet 20 minutes north of Tech, always knew she wanted to be in health care. "My mother is an ER/ICU nurse, and she has been a key role model in my life," she said. "It took a little while to figure out what my major would be, but I got there eventually."
Commencement Logistics
Face coverings are permitted but not required. See MTU Flex for additional campus health and safety protocol information.
Free parking is on a first-come, first-served basis in Lot 22 adjacent to the SDC and Lot 24 near the football field. See the campus map for accessible parking locations.
Share your Husky Pride on social media using #mtugrad.
Can't be here? Catch the commencement livestream.
Discovering where she belonged resulted in some unforgettable only-at-Tech moments. "I think my favorite memories occurred during my first MLS lab, Basic Medical Laboratory Techniques," Tienhaara said. "We were performing urinalysis for one of our labs and had to collect our own 'samples.' There we were, walking through the hallways of Michigan Tech holding cups of our own urine. I think it was then I figured out that we are a unique group of professionals and I'd fit right in."
"Though I didn't have any set plans while applying to colleges, it felt like I would have missed an amazing opportunity to go to a great school that was close to everything and everyone I loved. Looking back, I am so happy I chose to go to Michigan Tech.."
In her commencement address, Tienhaara plans to share personal reflections on how she arrived at this moment in her life. "I feel like my story is important, and that a lot of people will be able to relate to it," she said. "My journey to getting my degree has been a little bit complicated, and I used to be ashamed about it, but now I know that it is nothing to be ashamed of, but something to celebrate."
Tienhaara, a member of Health Occupations Students of America (HOSA) and Society of Medical Laboratory Scientists (SMLS), volunteers with Autism Speaks. In her free time, the 2017 Portage Health Foundation scholarship award recipient is typically working, studying and reading. She also appreciates spending time with her favorite people, including visiting her sister in Wisconsin.
"Truly, I am grateful for my family, for always supporting me," she said.
An intense final semester will ease into a slower schedule as the soon-to-be MTU alumna looks ahead in her personal and professional development. She'll likely find time for camping and other outdoor activities she enjoys. "I'm applying for internships and will begin that part of my journey next spring or summer, depending on what hospital I'm placed with," she said. "For now I'll be working in a lab and taking things at a bit of a calmer pace."
A Literary Journey "Where Ted Lasso Meets the Mighty Ducks"
Writer, public speaker, radio commentator and college instructor John U. Bacon, whose term on the Michigan Tech Board of Trustees runs from 2019 through 2026, has authored 12 books. His latest, "Let Them Lead: Unexpected Lessons in Leadership from America's Worst High School Hockey Team," has prompted comparisons to a real-life Ted Lasso. In the book, Bacon — who never scored a goal during his 86 hockey games as an Ann Arbor Huron High School River Rat — shares the story of returning to his alma mater to coach the River Rats from worst to first in three years.
Bacon's Book at Tech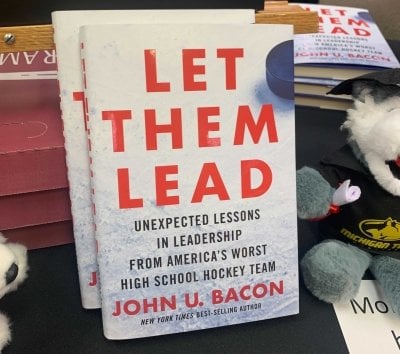 Better than a Goodreads endorsement: After Michigan Tech President Rick Koubek read "Let Them Lead," he asked John U. Bacon to speak at graduation. Signed copies of the book are available at University Images and the Michigan Tech Bookstore. For additional inspiration, listen to the "Let Them Lead" podcast.
Bacon earned an honors degree in history from the University of Michigan in 1986, a master's in education in 1994 and a Knight-Wallace Journalism Fellowship in 2005-06, and continues to call Ann Arbor home. He got to know the Upper Peninsula through his travels 25 years ago while roaming the Great Lakes in search of feature stories for the Detroit News. "I also wrote a lot about Michigan Tech in my first book on the history of college hockey," he said. "I fell in love with the place. The leadership from President Rick Koubek on down is outstanding, and the board is the best I've served on. Plus, my wife and 6-year-old son Teddy love it up here, too. We're building a lot of family memories."
"I love Tech for a lot of reasons, but the simplest might be the best: People here take their work seriously, but not themselves. Huskies get things done without a lot of drama."
No Commencement Speech Spoiler Alerts Required
"Most graduation speeches these days seem to urge graduates, 'Do what you love, and the money will follow,' said Bacon. "I do what I love, and sometimes the money has followed, and sometimes it hasn't, but I don't think that's the important thing. I think Michigan Tech graduates can aim higher. The great Jackie Robinson, who broke baseball's color line back in 1947, put on his gravestone, 'A life is not important except for the impact it has on other lives.'"
"From my experience coaching high school hockey players, teaching university students and working with Tech students, it's clear this generation is not lazy, selfish or entitled. They are motivated by bigger things than a paycheck, prestige and power," said Bacon. "They expect their work to be meaningful, and to have a sense of purpose and belonging. My speech will be about finding those things, and why that will be so important to them and to the world, which needs them now more than ever."
"I believe this generation of Tech graduates is uniquely positioned to make an incredible impact on the world."
Michigan Technological University is a public research university founded in 1885 in Houghton, Michigan, and is home to more than 7,000 students from 55 countries around the world. Consistently ranked among the best universities in the country for return on investment, Michigan's flagship technological university offers more than 120 undergraduate and graduate degree programs in science and technology, engineering, computing, forestry, business and economics, health professions, humanities, mathematics, social sciences, and the arts. The rural campus is situated just miles from Lake Superior in Michigan's Upper Peninsula, offering year-round opportunities for outdoor adventure.