Michigan Tech's Steel Bridge Team aims to be the comeback kid.
School is out for the academic year. But just like Michigan Tech research, competition knows no season. Summer events are a given for many student organizations including Supermileage Systems, Formula SAE—and Steel Bridge, one of 43 qualifying teams heading to national competition at Oregon State University this weekend. Eleven weeks and 900 hours of work are on the line, along with the commitment to rebound from a disappointing collapse at the 2016 event.
Michigan Tech's team took first place overall at the 2017 North Central Regional Competition sponsored by the American Institute of Steel Construction and American Society of Civil Engineers. It also placed first in three out of six subcategories: stiffness, efficiency and lightness. The other three categories are construction speed, construction economy and display. Since the team scattered for summer and is currently enroute to nationals, we rounded them up via a group email for a Q&A:
Q: Michigan Tech teams have a tradition of doing well in the steel bridge competition. Why do you think the competition is such a symbol of Husky pride?
A: We have made it to nationals six times over the last seven years. This competition is such a symbol of Husky pride because Michigan Tech was an original competitor in 1987, and we won that year! From originally having three teams, the competition has gradually expanded to just under 50 teams from across the globe.
"This competition is a part of our rich history as a Husky Nation, that shows the tenacity and success we share as Huskies, that we all should take pride in."
Q: Last year, there was a dramatic finish to your national competition—the span, built to bear a 2,500-pound load, collapsed. What did you learn from that experience, and how did it affect your design this year?
A: After sweeping all seven categories at regionals, our hopes were set high, and none of us dreamed the outcome would be what it was. After the collapse, we completed a failure analysis and determined that some key design measures were overlooked.
"Last year's collapse was heartbreaking for our team. From the beginning of this year, our design was based around eliminating the cause of failure we incurred last year."
Q: Every year there's a different design problem. From the 2017 rulebook: Homes start at $180,000 in Beaver Lodge Estates, a new subdivision along the banks of the environmentally sensitive Luckiamute River. But even before the lots can be platted, infrastructure must be in place. The mission: design, fabricate, and construct a span that meets all design specifications, including a high level of recycled content and a pleasing appearance—and assemble it as quickly as possible. What kind of design solution did you come up with?
A: Our solution is a 20-foot-long bridge, where the last four feet are a cantilever. We chose this solution because we felt it was most efficient for our end goal to win the competition.
Q: What are the dimensions, weight and width of the bridge? How long did it take you to build it, and how will you get it to Oregon?
A: This year's design is a 20-foot-long, five-foot-high and four-foot-wide bridge; the last four feet are the cantilever. It weighs 130 pounds. It took six people about 150 hours from December 1 until spring break to fabricate the bridge. In total, about 900 hours in 11 weeks. This year we flew our bridge out to Oregon State University in Corvallis, Oregon. We packed it in two golf club travel boxes, each weighing just under 100 pounds.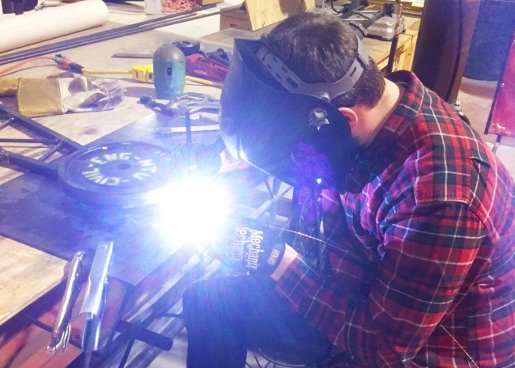 Q: How long does it take you to put it up?
A: At regionals this year, it took six people seven minutes and 15 seconds to construct the bridge. Because the competition is partially based on how quickly we are able to construct the bridge and how many people construct the bridge, we continued build practice until the end of the school year. We hope to cut our regionals time by at least one minute at nationals.
Q: What's the hardest part? The most fun?
A: Each team member is a fully enrolled student taking 16-18 credits per semester and averaging 15 hours of bridge work per week and involved in other on-campus activities—all while trying to find time to relax in the beautiful Copper Country. Being on a team of roughly 10-15 members, where everyone has the same common interest and putting in the hours and dedication that is asked of everyone, a fair amount of our time outside of bridge work is also spent together. We often do homework together, have barbecues and go out to eat together.
"The hardest part about the competition is trying to keep our sanity throughout the entire school year."
Team members are:
Bailey Ramler, 2017; James Hegel, 2018; Michael Prast, 2018; Gregory Naghtin, 2019; Julie Bouwens, 2019; Andrew Shepard, 2018; Jeremy Dziewit, 2018; Derek Carter, 2020; Daryn Carter, 2020; Emma Beachy, 2018; Garth Bogart, 2019; Karrah Schneiderwent, 2018; Ryne Hass, 2017; and Joseph Schmitt, 2017.
Although enterprise team members can be from any major, all but one steel bridge builder, Ryne Hass, are civil engineering majors. Hass majors in mechanical engineering technology.
Concrete Canoe Nationals in June
Michigan Tech's Concrete Canoe team also placed first in its 2017 regionals competition, sweeping the competition in all categories including technical paper and presentation, and races. The 35-member team takes their canoe, named Free Range in honor of the agricultural industry, to nationals June 17-19 at the Colorado School of Mines.
May 26-27 Oregon State University Steel Bridge, https://www.aisc.org/education/university-programs/student-steel-bridge-competition/
Concrete Canoe competition is June 17-19 at the Colorado School of Mines.
Michigan Technological University is a public research university founded in 1885 in Houghton, Michigan, and is home to more than 7,000 students from 55 countries around the world. Consistently ranked among the best universities in the country for return on investment, Michigan's flagship technological university offers more than 120 undergraduate and graduate degree programs in science and technology, engineering, computing, forestry, business and economics, health professions, humanities, mathematics, social sciences, and the arts. The rural campus is situated just miles from Lake Superior in Michigan's Upper Peninsula, offering year-round opportunities for outdoor adventure.