Our 2021 Steel Bridge Team topped regionals and awaits national results.
The winners of the annual American Institute of Steel Construction's (AISC) Student Steel Bridge Competition National Finals will be announced June 3. This year, undergrads from Michigan Technological University proved as resilient as the structures they design, fabricate, assemble, and test before industry judges.
Students get six months to make a light but stiff 20- to 25-foot steel bridge that can bear more than a ton of weight and be broken down into roughly three-foot-by-six-inch-by-four-inch pieces — then reassembled, fast. The challenge is different every year, but always requires the design to account for crucial environmental factors, from riverbanks or erupting volcanoes to historical integrity or pedestrian access.
Steel Bridge Team captain Lindsey Anderson said she's proud of the way the team navigated a difficult year. "It was definitely a different season, but we were able to make the most of it."
Before the national finals, the Huskies placed first in both Compete from Campus — a virtual version of the traditional event in which 80 competitors recorded and submitted videos of the construction and loading portions of the event — and a new supplemental competition, which combined North Central and Great Lakes regions into a field of 38 competitors who were judged on a written report and video for regionals competition. The national supplemental competition was decided by popular vote. Teams asked friends, family and other supporters to watch their supplemental competition video and help them win by liking and sharing it no later than May 16.
Watch AISC Supplemental Competition Video | Steel Bridge Team at Michigan Tech video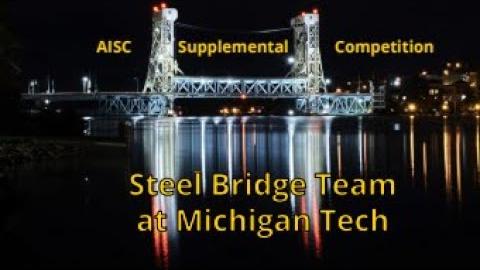 Michigan Tech's Steel Bridge Team lays out the problem, their approach and their results in the supplemental competition video.
The national Compete from Campus competition took place April 18, with a 2,500-pound load placed on a different part of the bridge than in regionals. Anderson said the team's construction time was more than a minute faster than regionals. "We were happy with the results," she said. "However, we will not know how we compared to the other 25 schools at national finals until June 3."
Fingers are crossed, but kudos are already due for a job well done by a team of students who not only adapted but excelled in extraordinary circumstances.
Building a New Bridge to Industry and Enterprise
Steel Bridge is a 30-plus-year-old MTU tradition — the University was one of three schools in the first student steel bridge competition in 1987. Anderson said the team marked a couple of major milestones in 2021. MTU Steel Bridge is now an official AISC Student Club. National affiliation provides additional resources beyond participation in the bridge competition. And, the team is partnering with Michigan Tech's Built World Enterprise next academic year, giving members an opportunity to earn Enterprise Program credit for their Steel Bridge work. This year's team was all undergraduates, but graduate students sometimes take part (there will be two on next year's team).
Find out if you have what it takes to join the Steel Bridge Team.
You can email team captain Anderson if you have any questions.
Michigan Technological University is a public research university founded in 1885 in Houghton, Michigan, and is home to more than 7,000 students from 55 countries around the world. Consistently ranked among the best universities in the country for return on investment, Michigan's flagship technological university offers more than 120 undergraduate and graduate degree programs in science and technology, engineering, computing, forestry, business and economics, health professions, humanities, mathematics, social sciences, and the arts. The rural campus is situated just miles from Lake Superior in Michigan's Upper Peninsula, offering year-round opportunities for outdoor adventure.