Yun Hang Hu won the 2017 Michigan Tech Research Award. He was also selected for the Bhakta Rath Award with his PhD student, Wei Wei.
Hu, the Charles and Carroll McArthur Professor of materials science and engineering at Michigan Technological University, has been awarded the Michigan Tech Research Award this year for his outstanding research achievements in advanced materials and clean energy. He also earned the 2017 Bhakta Rath Award with his PhD graduate student, Wei Wei. This is the first time a faculty member has won both awards.
"It is with great pride that I learned Hu received these two awards, with his student Wei the co-recipient of one. Yun has a broad portfolio of research skills, which he is widely known for in the international research community. That recognition now also reaches within our own institution."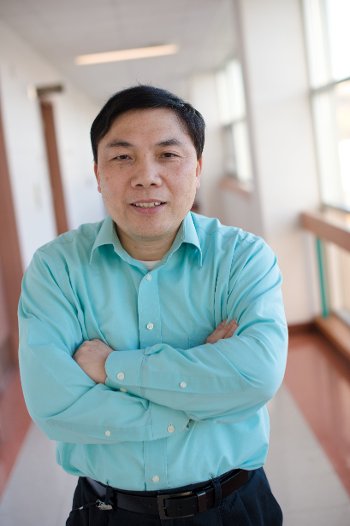 Research Award
The Michigan Tech Research Award, the highest research honor given at the university, commends Hu's internationally recognized work. He is well known for his significant contributions to numerous areas, including nanostructured materials, memristive materials, catalysis, clean energy technology and quantum chemistry calculations.
He is also one of few researchers to excel in both theory and experiments. His groundbreaking research has created solid solution catalysts for natural gas conversion, highly efficient materials for hydrogen storage and novel processes for hydrogen production. He has pioneered the synthesis of shape-controlled 3-D graphene materials and alkali-metal-embedded carbon nanowalls; he also demonstrated their excellent performances as electrodes for solar cells, supercapacitors, fuel cells and batteries. Hu discovered numerous unique reactions for carbon dioxide conversion and that engineered molybdenum disulfide nanosheets can be used in ideal memristors, which can potentially store massive amounts of data in a miniscule amount of space.
"When Hu was recruited to our department, he was an internationally recognized expert in hydrogen storage materials. He has diversified his research activities, and made substantial breakthroughs in a half-dozen or so other areas of study. His science is also enabling progress on some of the most challenging social issues, including energy, sustainability and carbon capture and storage."
Milligan, who nominated Hu for the Michigan Tech Research Award, adds that he is a valued colleague, an excellent teacher and a true leader: "His attitude is always positive, his disposition always includes a smile and Michigan Tech is lucky to have him."
"I am pleased that Hu's significant body of scholarly contributions will be honored with the Michigan Tech Research Award; he is acknowledged as an international leader in energy research for his innovative processing of materials. Both the department and university are fortunate to have him as a colleague."
Hu has published more than 160 papers in prestigious journals including Journal of the American Chemical Society, Angewandte Chemie International Edition, Advanced Materials, Nano Letters, Energy and Environment Science and Accounts of Chemical Research. He has been honored by numerous professional societies, such as the American Association for the Advancement of Science, American Chemical Society, American Institute of Chemical Engineers, UK Royal Society of Chemistry and Materials Research Society.
"I'm really honored by these two prestigious awards," he says, adding that he appreciates the help and support from Michigan Tech colleagues, particularly in the materials science and engineering department, and the contributions of his students in research projects. "Furthermore, I would like to express my special thanks to Charles and Carroll McArthur for their support of my research, and my wife, Nancy, my son, Bo, and my daughter, Phoebe."
Bhakta Rath Research Award
The Bhakta Rath Research Award is a team effort, given out annually to a PhD student-advisor duo based on the quality and significance of their work together. Wei Wei, a PhD materials science student, and her adviser, Hu, set a high bar in earning the 2017 award.
Wei already has an outstanding track record as a graduate student. The 2016-17 Graduate Student Government exceptional student award winner has published 21 journal articles on materials used in energy devices, including a notable paper on inventing sodium-embedded carbon.
"Hu and Wei used novel approaches, which are based on their invented reactions, to synthesize unique electrode materials."
Pearce, who nominated Wei and Hu for the award, also points out that not only did the team successfully create new materials and processes, they kept the larger objective in mind to assess the workability in real energy devices. The breakthrough stems from the sustained quality of research coming out of the lab.
"I am excited to win the award," says Wei. "To be able to reach this achievement, it took the mentorship of my adviser and the collaboration of my group members and scientists from other universities."
A key piece of Wei and Hu's success comes from the dual reality of many researchers: doing research and mentoring future researchers.
"The Bhakta Rath award is a terrific way to celebrate the emerging talents of a graduate student and their research contributions while working under the mentorship of a PhD faculty advisor. Wei has submitted an impressive dissertation involving the synthesis of new materials for solar energy applications, and has already established an impressive portfolio of highly cited scholarly publications in high-impact journals. We are very proud of her accomplishments."
Hu says Wei is an outstanding graduate student with strong motivation.
"Her persistent effort led to her progressing faster than her peers," Hu says. "Her performance exceeded my expectations. She has a bright future in her career."
After joining Michigan Tech in 2007, Hu has supervised 26 graduate students and postdoctoral fellows, including 10 PhD students. All of his former PhD students obtained highly competitive positions, including 30 percent as faculty members at research universities around the country. His excellent mentorship was also recognized by the Graduate Student Government exceptional faculty mentor award last year.
Michigan Technological University is a public research university founded in 1885 in Houghton, Michigan, and is home to more than 7,000 students from 55 countries around the world. Consistently ranked among the best universities in the country for return on investment, Michigan's flagship technological university offers more than 120 undergraduate and graduate degree programs in science and technology, engineering, computing, forestry, business and economics, health professions, humanities, mathematics, social sciences, and the arts. The rural campus is situated just miles from Lake Superior in Michigan's Upper Peninsula, offering year-round opportunities for outdoor adventure.