Feng Zhao Wins Rising Star Award for Her Biomedical Engineering Research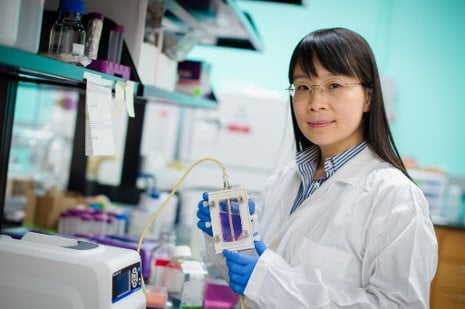 Feng Zhao is the real deal. In her regenerative heart tissue research, Zhao doesn't mess with anything fake; she makes nanoscaffolds from actual tissue. The Biomedical Engineering Society (BMES) has recognized Zhao, an assistant professor of biomedical engineering, with a Rising Star Award. She is one of six researchers in the nation to receive the honor.
"I am deeply honored and very excited to be recognized by peers in the cellular and molecular bioengineering field," Zhao says, adding that she appreciates the culture of her department and Michigan Tech. "My research fellows, students and I could not have produced a single piece of data without the strong support of this friendly and collaborative environment."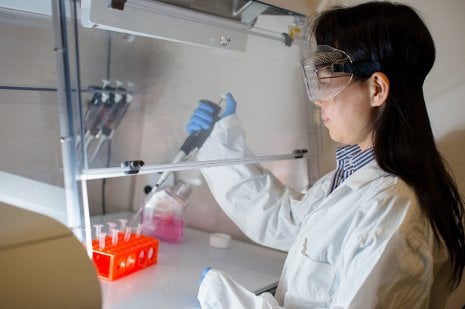 Real Tissue
Zhao is at the cutting edge of stem cell engineering, and her research can be applied to multiple tissues including heart, blood vessels, nerve, skin, bone, skeletal muscle and smooth muscles. Eventually, the tissues constructed in Zhao's lab could be used for grafts, implants and other medical procedures to help people recover from surgery or injuries.
Zhao builds 3-D tissues that are grown with a supply of very small blood vessels called capillaries; they're called highly organized, prevascularized tissues. The process to make them is called biofabrication and builds structures combining cells and fibers. Prevascularization will solve the problems associated with many engineered tissues that don't get enough nutrients and oxygen, along with inadequate removal of wastes after implantation. The core of her work focuses on creating naturally derived tissue nanofibers, made from fibroblast cells. Using natural nanofibers helps the body recognize it as real tissue, making it less likely to reject the material, which is a problem with current synthetic nanoscaffolds.
A bundle of one million nanofibers is about the same width as a single strand of human hair. On this tiny scale, Zhao aligns all of the fibers, cells, and engineered capillaries, which are important for heart muscles because that alignment keeps a regular, steady rhythm.
Healing Hearts
Cardiovascular research is hard to do. Sean Kirkpatrick, the chair of the Department of Biomedical Engineering, says Feng's work shows how it can be done at a small university—and done well.
"We have a unique niche here on campus in applied physiology and medical engineering, where Michigan Tech can make a difference," Kirkpatrick says.
Check out more of Zhao's groundbreaking work in our 2015 Research Magazine article "Nanoscaffolding Goes Natural."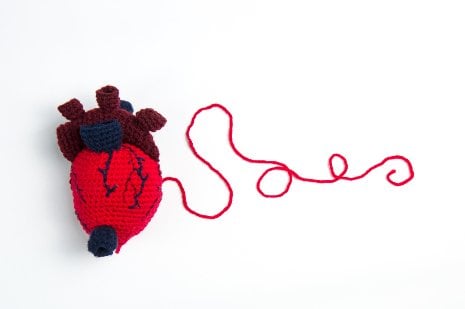 Michigan Technological University is a public research university founded in 1885 in Houghton, Michigan, and is home to more than 7,000 students from 55 countries around the world. Consistently ranked among the best universities in the country for return on investment, Michigan's flagship technological university offers more than 120 undergraduate and graduate degree programs in science and technology, engineering, computing, forestry, business and economics, health professions, humanities, mathematics, social sciences, and the arts. The rural campus is situated just miles from Lake Superior in Michigan's Upper Peninsula, offering year-round opportunities for outdoor adventure.