Jennifer Becker, Eric Seagren Receive Wastewater Research Award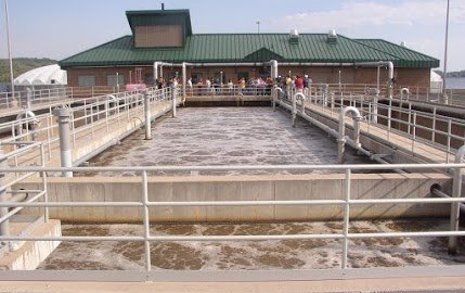 It's said that time heals all wounds. Time, as Michigan Technological University researchers Jennifer Becker and Eric Seagren know, also has the power to inactivate disease-causing viruses, bacteria and worms found in leftover organic matter from wastewater treatment. What Becker and Seagren want to know is—how much time?
The researchers are armed with a new Water Environment Research Foundation (WERF) award for their project: "High-Tech Analysis of Low-Tech Methods for Sustainable Class A Biosolids Production." Becker, an associate professor of civil and environmental engineering, and Seagren, a professor of civil and environmental engineering, will lead a team to establish a pilot-scale field test at the Portage Lake Water and Sewer Authority (PLWSA) in Houghton.
The $37,000 award from WERF, the research arm of the Water Environment Federation, supports one part of a three-part research project that hopes to demonstrate how low-tech, low-cost biosolids treatment processes can be used to achieve Class A quality. Ultimately, the goal is to equip small-town water treatment superintendents and regulatory personnel across the nation with a mathematical formula that predicts pathogen die-off in the process. "We want to know how much time it takes to create Class A biosolids whose pathogens are virtually undetectable," Becker says.
Going from B to A
For more than 100 years, wastewater treatment plants, now called water resource recovery facilities or WRRFs, cleaned wastewater to protect human health and our lakes and streams—and by all accounts did a satisfactory job. The traditional process of removing organic matter and treating pathogens, however, is energy and infrastructure intensive and leaves communities with an abundance of Class B biosolids.

"The process of treating liquids creates a lot of solids," Becker says. "Biosolids contain a lot of good stuff, including plant nutrients, and have many uses."

Residual solids from wastewater treatment are called biosolids after they are treated to meet Environmental Protection Agency requirements for application to agricultural and other lands. If biosolids still have detectable levels of pathogens following treatment, they are categorized as Class B. If no pathogens are detected, the biosolids are labeled Class A.
Because of their detectable pathogen levels, application of Class B biosolids is restricted to land and mine reclamation and agricultural lands subject to site restrictions, management practices and other requirements. Locally, land near Torch Lake once damaged by mining practices is now experiencing vegetation growth thanks to the application of Class B biosolids. In comparison, Class A biosolids have greater benefits and fewer restrictions and can be sold for use by farmers and homeowners as a fertilizer.
Sustainability
For the more than 80 percent of WRRFs in the US that serve a population of fewer than 10,000, according to the EPA's 2008 Clean Watersheds Needs Survey Report to Congress, cost-effectiveness, efficiency and sustainability are growing concerns. This is particularly the case in an era of decreasing budgets and severe drought such as in the American West. In these times, forward-thinking WRRF superintendents are asking: Is there a way to improve the water treatment process to meet these challenges?

Answering that question, as Becker and Seagren aim to do, should yield a high impact for WRRFs around the US. The pair was also recently awarded a $400,000 Stormwater, Asset Management and Wastewater (SAW) grant by the Michigan Department of Environmental Quality to work with the Gogebic-Iron Wastewater Authority (GIWA) to evaluate and improve their biosolids treatment process. The SAW grant will establish a pilot-scale study at GIWA to parallel that at the PLWSA, in addition to a controlled lab study that will look at environmental conditions like temperature and moisture and how they impact pathogen reduction. The lab results will be used in developing the formula that WRRF superintendents and regulatory agencies around the nation can one day use to create low-cost, low-tech Class A biosolids.
"That's the really cool part about this project: It's driven by really smart superintendents who know how their plants work," Becker says. "And they are constantly looking for ways to improve things."
Michigan Technological University is a public research university founded in 1885 in Houghton, Michigan, and is home to more than 7,000 students from 55 countries around the world. Consistently ranked among the best universities in the country for return on investment, Michigan's flagship technological university offers more than 120 undergraduate and graduate degree programs in science and technology, engineering, computing, forestry, business and economics, health professions, humanities, mathematics, social sciences, and the arts. The rural campus is situated just miles from Lake Superior in Michigan's Upper Peninsula, offering year-round opportunities for outdoor adventure.