Michigan Tech Feeding Michigan's Appetite for Skilled STEM Workers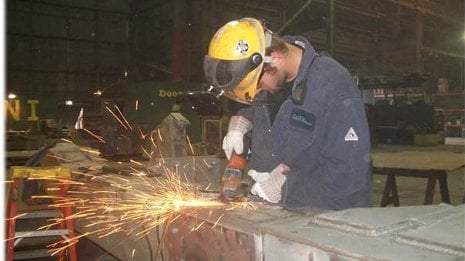 When Governor Rick Snyder proclaimed October STEM (science, technology, engineering and math) Careers Month, the Michigan STEM Partnership challenged employers across the state to do just one thing to promote understanding of the many career opportunities in STEM fields and the education required by those jobs.
Michigan Technological University, a member of the STEM Partnership, is meeting that challenge and then some, doing much more than one thing.
"Michigan Tech is working hard to meet Michigan's need for STEM talent," said Peter Larsen, director of research development.
INTERNSHIPS
Tech's Office of Innovation and Commercialization is participating in a 6-university consortium called the Michigan Corporate Relations Network that sponsors a small company internship program. Consortium members—Michigan Tech, Western Michigan, Michigan State, Wayne State, the University of Michigan and University of Michigan-Dearborn—each received funding from the Michigan Strategic Fund, supported by the Michigan Economic Development Corporation, to work with small companies to create internships for their students.
Michigan Tech received $77,000 to work with 21 companies and support 34 internships from 2012 to 2014. This year, the University will receive another $35,000 to develop more internships.
Career Services at Michigan Tech plays a key role in filling the STEM careers pipeline too. They just completed their largest and most successful fall Career Fair ever, with 341 companies conducting interviews with thousands of students for jobs, internships and co-ops. Employers are turning to Michigan Tech for students who have the STEM skills they so desperately need, said Career Services Director Steve Patchin.
Michigan Tech students are well aware that employers are looking for graduates with STEM skills. This year, more than 80 percent of the university's students are enrolled in STEM majors.
STEM Careers
And to help fill the pipeline for future STEM jobs, the Michigan Tech Mind Trekkers are partnering with industry to take the excitement of science and engineering on the road to young people all over Michigan and the nation. Mind Trekkers, a traveling science and engineering show designed to get school children hooked on STEM, has taken their flashy, hands-on demos to the USA Science & Engineering Festival in Washington, DC, Destination Imagination in Knoxville, Tenn., and the Boy Scout Jamboree. With support from The Dow Chemical Co., they recently performed at the Dow Great Lakes Bay Regional Science & Engineering Festival at Delta College.
Another high-impact STEM outreach effort at Michigan Tech is the Summer Youth Program, which brought 938 middle and high school students from all over Michigan and the world to campus this summer to explore STEM careers, helping diversify the STEM talent pool. Others at Tech who are actively encouraging young people to consider STEM careers include the Western UP Center for Science, Mathematics and Environmental Education, the Center for Science and Environmental Outreach at the Great Lakes Research Center and High School Enterprise programs that bring scientists and engineers, corporate partners and high school students together to solve problems.
Michigan Technological University is a public research university founded in 1885 in Houghton, Michigan, and is home to more than 7,000 students from 55 countries around the world. Consistently ranked among the best universities in the country for return on investment, the University offers more than 125 undergraduate and graduate degree programs in science and technology, engineering, computing, forestry, business and economics, health professions, humanities, mathematics, social sciences, and the arts. The rural campus is situated just miles from Lake Superior in Michigan's Upper Peninsula, offering year-round opportunities for outdoor adventure.