Michigan Tech to Partner in American Lightweight Materials Manufacturing Innovation Institute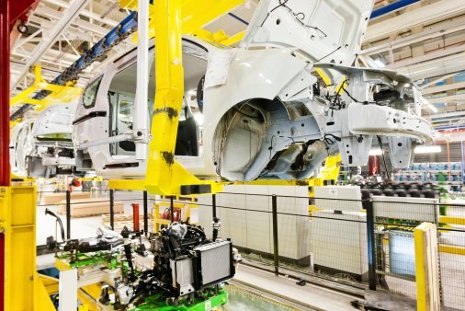 Michigan Technological University is a partner in the newly formed $148 million American Lightweight Materials Manufacturing Innovation Institute (ALMMII).
The new facility, to be headquartered in the metro-Detroit area, will be part of the National Network of Manufacturing Innovation, a federal initiative to help US manufacturers become more competitive and encourage investment in the United States.
The Department of Materials Science and Engineering and the Department of Mechanical Engineering-Engineering Mechanics are leading the Michigan Tech partnership with ALMMII. MSE Chair Stephen Kampe, Associate Professor Paul Sanders, Professor Walter Milligan and Research Professor Steven Mashl will be primary participants from MSE.
"Advanced materials manufacturing is a great fit for MSE, MEEM and Michigan Tech," Kampe said. "We have exceptional facilities in this area, many of which are of a pilot-plant scale, with which we can develop innovative material architectures, processes and engineering functionalities. It will be a worthwhile project as a means to kick-start a new advanced manufacturing infrastructure in Michigan and the Upper Midwest."
A public-private partnership, ALMMII will serve the automotive, aerospace, rail and trucking industries by developing advanced, lightweight-materials manufacturing technologies. It will also develop education and workforce training programs and ultimately aims to support the creation of 10,000 jobs.
ALMMII will be funded in part by the Department of Defense and led by the University of Michigan, Ohio State University and the Ohio-based manufacturing technology nonprofit EWI. In addition to Michigan Tech, partners include Honda North America, Michigan State University, Wayne State University, Boeing and Alcoa. More than 50 other companies, universities and nonprofits will take part.
The manufacturing institute was selected through a competitive process led by the Department of Defense and will receive $70 million in federal funds over five years, matched by $78 million from the consortium partners. The funding includes $10 million from the Michigan Economic Development Corporation and additional support from the State of Ohio.
The ALMMII is the third of three National Network of Manufacturing Innovation institutes awarded in 2014. Earlier this year, Professors Paul Sanders and Joshua Pearce (MSE/ECE) were awarded a grant to develop low-cost, 3D metallic printing as part of the first NNMI, which focuses on additive manufacturing and is being administered by the America Makes Alliance of Youngstown, Ohio.
Michigan Technological University is a public research university founded in 1885 in Houghton, Michigan, and is home to more than 7,000 students from 55 countries around the world. Consistently ranked among the best universities in the country for return on investment, the University offers more than 125 undergraduate and graduate degree programs in science and technology, engineering, computing, forestry, business and economics, health professions, humanities, mathematics, social sciences, and the arts. The rural campus is situated just miles from Lake Superior in Michigan's Upper Peninsula, offering year-round opportunities for outdoor adventure.