New Sponsor, New Trophy and New Fuel at the 2014 SAE Clean Snowmobile Challenge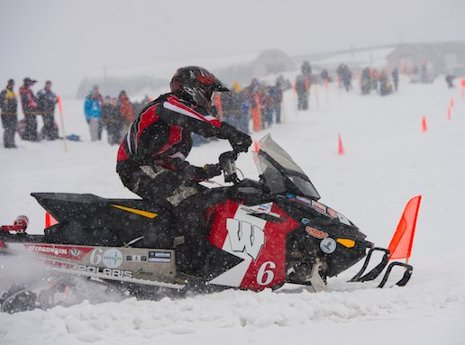 It's shaping up to be a perfect year for the 15th annual SAE Clean Snowmobile Challenge, set for March 3-8.
Michigan Technological University, which hosts the event, is experiencing the snowiest winter in years with temperatures solidly sub-freezing, ideal conditions for this Society of Automotive Engineers collegiate design competition. Plus, a new major sponsor has donated an impressive traveling trophy for the winner.
Seven teams are entered in the zero emissions category, for battery-powered sleds, which is sponsored by the National Science Foundation. NSF uses electric snowmobiles while conducting atmospheric research in pristine arctic locations.
A total of 13 teams are registered in the Challenge's internal combustion category. Engineering students from participating schools take a stock snowmobile and reengineer it. Their aim: to reduce emissions and noise and increase fuel efficiency while preserving the riding excitement demanded by snowmobile enthusiasts.
This year, the one that does it the best will be taking home the MacLean-Fogg Cup.
Like hockey's Stanley Cup, the MacLean-Fogg Cup will be engraved with the name of the winning school and displayed there the following year. Sculpted and cast in bronze by renowned Michigan artist Sergio DeGiusti, the cup is funded by the new lead sponsor, MacLean-Fogg Component Solutions, which will also award a prize of $1,000 to the winning internal-combustion team.
MacLean-Fogg Component Solutions is a leading supplier of fasteners, engineered components, and linkage and suspension products for industry. Through their involvement with the Challenge, the Illinois-based company aims to develop relationships with the engineers of tomorrow.
"MFCS is known to our customers for providing high-value, innovative products," said Dave Lomasney, president of the Fastener Components Division. "But we are not that well known to potential employees. Our involvement with the Clean Snowmobile Challenge allows us to meet top engineering students and introduce them to MacLean-Fogg."
Rob Whitney, president of the company's Engineered Plastics Division, agreed. "We have been fortunate to experience a tremendous growth curve with no signs of slowing down," he said. "We need capable, talented, innovative engineers in all areas of MacLean-Fogg, and the Challenge provides a forum for students preparing careers at companies like ours."
"Michigan Tech is honored to have MacLean-Fogg become the premier sponsor of the SAE Clean Snowmobile Challenge," said Jay Meldrum, the co-organizer of the Challenge and director of the Keweenaw Research Center, the competition's headquarters. "MacLean-Fogg recognizes the value of competition-based engineering and the quality of students that this type of activity creates. Their sponsorship of the MacLean-Fogg Cup exemplifies this support and will provide a lasting impression on the students for years to come."
As in past competitions, the internal combustion sleds must be able to accommodate flex fuel, but this year, there's a twist.
"Isobutanol is our new biofuel," said Meldrum. "It's distilled from corn, like ethanol, but it blends better with gasoline and has more energy."
Pure ethanol contains about 67 percent of the energy of gasoline, so it takes more fuel to travel the same distance. Isobutanol has a higher energy density, 98 percent of gasoline's. Plus, it doesn't absorb water from air, so it doesn't cause corrosion in conventional gasoline engines.
The entries will need to adapt to a "mystery blend," a fuel recipe that contains anything from 16 to 32 percent isobutanol.
In another first, the Challenge is welcoming competitors from three new schools this year, including Queen's University, of Kingston, Ontario; the Rochester Institute of Technology, of New York; and the University of Alaska Fairbanks at Bristol Bay. They are among the 20 entrants expected to compete.
Teams registered in the internal combustion division are Clarkson University, of Potsdam, N.Y.; École de technologie supérieure, of Montreal; Kettering University, of Flint; Michigan Tech; North Dakota State University, of Fargo; Northern Illinois University, of DeKalb; Rochester Institute of Technology; State University of New York at Buffalo; the University of Idaho, of Moscow; the University of Minnesota–Duluth; the University of Waterloo, of Ontario; the University of Wisconsin–Madison; and the University of Wisconsin–Platteville.
Teams registered in the zero-emissions division are Clarkson University; McGill University, of Montreal; Michigan Tech; Queen's University; the South Dakota School of Mines and Technology, of Rapid City; the University of Alaska Fairbanks; and the University of Alaska Fairbanks at Bristol Bay.
The Clean Snowmobile Challenge is sponsored at Michigan Tech by the Keweenaw Research Center and the Department of Mechanical Engineering–Engineering Mechanics.
Michigan Technological University is a public research university founded in 1885 in Houghton, Michigan, and is home to more than 7,000 students from 55 countries around the world. Consistently ranked among the best universities in the country for return on investment, the University offers more than 125 undergraduate and graduate degree programs in science and technology, engineering, computing, forestry, business and economics, health professions, humanities, mathematics, social sciences, and the arts. The rural campus is situated just miles from Lake Superior in Michigan's Upper Peninsula, offering year-round opportunities for outdoor adventure.