Is Michigan Tech for Me? Community College Students Get an Inside Look at University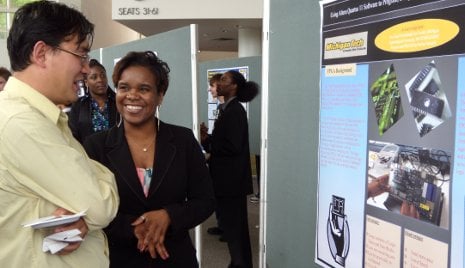 Rolando Bocanegra never pictured himself attending a four-year university. "There was always a fear factor when it came to thinking about a major college," he said. As a current student at Grand Rapids Community College, "thinking bigger just made me feel overwhelmed."
That's exactly the type of common stumbling block the Michigan College and University Partnership/Louis Stokes Alliance for Minority Participation (MICUP/MI–LSAMP) helps community college students overcome. The MICUP/MI–LSAMP program, coordinated by Michigan Technological University's Center for Diversity and Inclusion, offers low-income, first-generation and underrepresented minority community college students a summer research internship—and a first-hand experience of what life at a four-year institution is really like.
Once students see how well they fit in, many transfer to Michigan Tech. "About 50 to 65 percent of our participants end up coming to Tech after they take part in MICUP/MI–LSAMP," said Karyn Detmer, MICUP coordinator.
The program, which recently wrapped up its 13th year at Tech, partners with Delta College, Grand Rapids Community College and the Wayne County Community College District (WCCCD). Students from these three community colleges apply to spend seven weeks at Tech, where they take a class and work on a research project, usually with a faculty member.
"The credit they get at Tech transfers back to their home college for their degree, or it can be applied toward a degree at Tech if they make the switch," said Detmer. "They get to see what courses are like here and the kinds of resources available to student researchers at a four-year school."
And the best part? Tuition, room and board are covered for the summer, and participants even get a $2,500 stipend.
Of the program's 24 participants this year, 11 focused their studies on science, technology, engineering, and mathematics. Five studied business and psychology, while the remaining students enrolled in a variety of other courses.
Porsia Green, a student from Delta College, said that even though the program offers free college credit, it's the research experience that she was most excited about.
"Eventually, I want to work with women and children from underdeveloped countries to help them develop their business skills," she said. "While at Tech, I'm taking Intro to Psychology. My research project looks at the link between psychological factors like domestic violence and youth suicide in the Upper Peninsula. I've gotten to find explanations and solutions to some of life's worst circumstances."
Even though participants say they enjoy being somewhere new, they certainly don't take a summer-vacation attitude toward their coursework. They tackle tough classes like calculus, organic chemistry, technical communication and construction engineering—all on top of their research project.
"Students get a real feel for the pace of a four-year education," said Detmer. "But they still get a chance to experience what makes Tech special. They're taking canoeing trips on the weekend and tackling the Challenge Course with their new friends. The residence hall they live in together is always full of activity."
Pauline Samuels, a sophomore from WCCCD studying electrical electronics engineering technology, said her most unexpected challenge wasn't found in the classroom.
"I didn't like the cool weather so much at first up here, but that won't stop me from applying to Michigan Tech in the future," she said. "The fast-paced environment is stimulating, and I would recommend this experience to anyone interested in getting an inside look at Tech."
As for Bocanegra? "There lays a whole other world outside my community college," he said. "I now feel much more confident about going to a four-year institution."
Michigan Technological University is a public research university founded in 1885 in Houghton, Michigan, and is home to more than 7,000 students from 55 countries around the world. Consistently ranked among the best universities in the country for return on investment, Michigan's flagship technological university offers more than 120 undergraduate and graduate degree programs in science and technology, engineering, computing, forestry, business and economics, health professions, humanities, mathematics, social sciences, and the arts. The rural campus is situated just miles from Lake Superior in Michigan's Upper Peninsula, offering year-round opportunities for outdoor adventure.