Dirty hands. Trace gases. Ericaceae. The life of a peatland mesocosm experiment.
Flooding is the way of life in peat bogs. The standing water helps create an environment where mosses, sedges, and shrubs flourish. As each year passes, a thick new layer of vegetation buries the old. Layer and layer of partially decomposed organic matter piles into peat, which slowly gathers and stores tons of carbon over centuries. With so much old plant material trapped in them, these flooded peat bogs affect much bigger carbon and climate systems.
1. First, find a peat bog. This is Meadowlands, Minnesota. And that's an excavator removing a 2,000 lb. block of peat, water, and water-loving plants like sedges and shrubs. (Credit: Ellen Beller)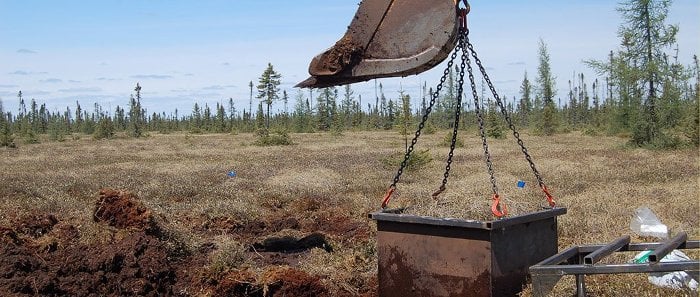 ---
2. Next, haul the bins to the closest—well, ONLY—mesocosm facility of this scale in the Midwest. Our research team brought 24 bins back to campus. The U.S. Forest Service Northern Research Station runs the facility and collaborates with our School of Forest Resources and Environmental Science. (Credit: Ellen Beller)
---
3. Each bin is a small carbon sink. Bogs are full of water and over time all the decaying plant matter turns into carbon-rich peat. Undergraduate student Sarah Harttung (right) helps Forest Service ecologist Lynette Potvin dig into the first layer of sphagnum moss.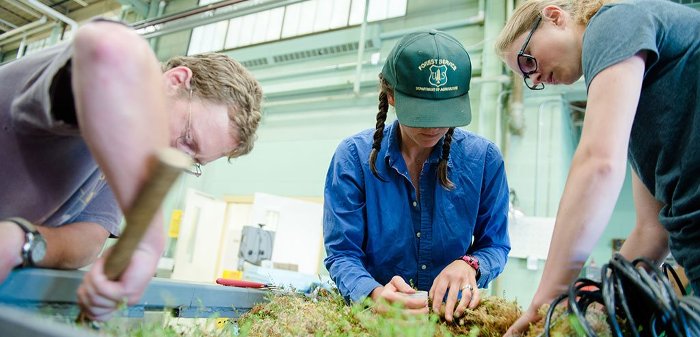 ---
4. Carbon cycling is the big picture. But to get there, our researchers need to know the plants. Potvin and Evan Kane, an assistant professor of ecology, are most interested in sedges and Ericaceae shrubs in the mesocosm bins.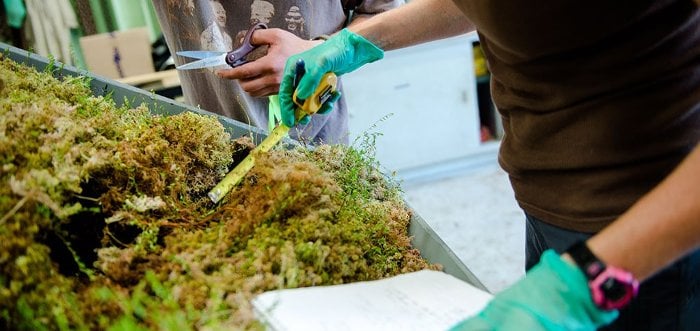 ---
5. The researchers look at trace gases. Methane and carbon dioxide slowly release; the gases tell what's happening below the surface. Entangled roots change what gases rise depending on functional traits of the plants they belong to; in effect, some roots act like gas "chimneys" to the peat surface.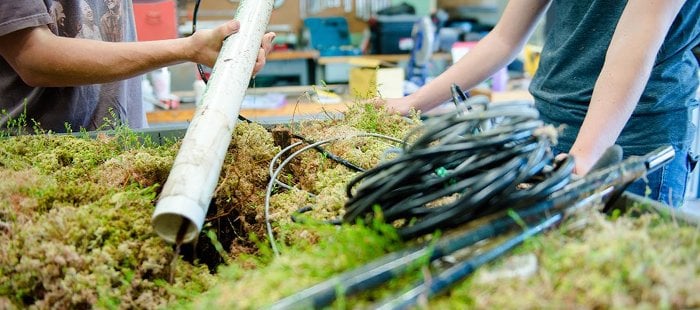 ---
6. This mesocosm experiment started four years ago. The Minnesota-bog blocks rested at the Houghton-based facility, weathering Keweenaw winters and withstanding water-level manipulations by the researchers. Last July, the team took apart the bins, making their final measurements.
---
7. Potvin, Kane, their research collaborators, and a group of student assistants survey the vegetation mix, snipping samples of different species. The Ericaceae shrubs appeared to do well with drought. Unfortunately, more shrubs could also mean more carbon dioxide surfacing.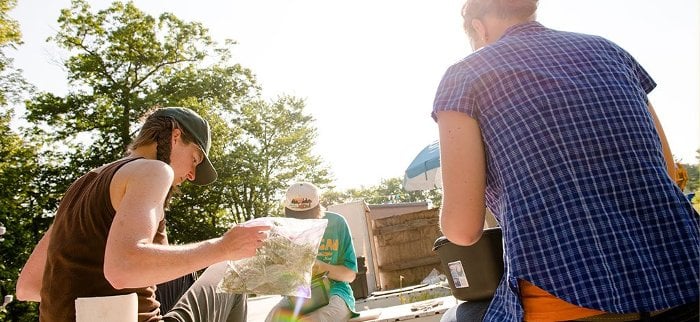 ---
8. After the surveys, each bin is taken apart. A front-end loader lifts each bin, the glass window is removed and samples are cut off the peat.
---
9. Chunks of soggy peat make for dirty hands and excellent chemical analysis. There is a lot of action in the top 18 inches, where most of the roots grow. The preferred cutting tool: a serrated bread knife.
---
10. The peat in Kane's hands trapped a couple roots. The twig-like pieces are probably a couple thousand years old. But while peat bogs are slow-moving systems, climate change may upend that. All the more reason to better understand how carbon cycles through the bog.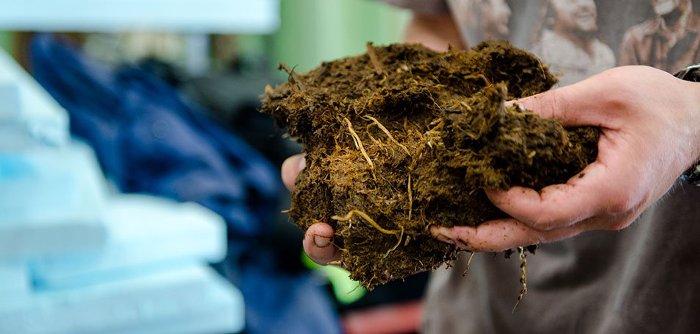 Michigan Technological University is a public research university founded in 1885 in Houghton, Michigan, and is home to more than 7,000 students from 55 countries around the world. Consistently ranked among the best universities in the country for return on investment, Michigan's flagship technological university offers more than 120 undergraduate and graduate degree programs in science and technology, engineering, computing, forestry, business and economics, health professions, humanities, mathematics, social sciences, and the arts. The rural campus is situated just miles from Lake Superior in Michigan's Upper Peninsula, offering year-round opportunities for outdoor adventure.