A lot, it turns out—and it's more than couches and counseling sessions. Michigan Tech students and alums prove that a successful career can be just a bachelor's degree away.
Of the 72 undergraduate degree programs available at Michigan Tech, perhaps none is more misunderstood than Psychology. Susan Amato-Henderson, chair of the Department of Cognitive and Learning Sciences, says the problem begins with the definition of the subject itself. "People don't know what psychology is," Amato-Henderson says. "Educating our students, and others, is a battle."
Amato-Henderson says one of those battles involves stereotypes. "When you say the word 'psychology" people tend to conjure up images of patients on chaise lounges confessing feelings about their parents. But psychology is much broader than just therapy."
Another common misperception is the idea that there are no career options for students pursing a bachelor's degree in psychology, and that graduate school is the only option. On the contrary, says Amato-Henderson: Tech's placement rate is quite impressive, with students finding employment in a variety of fields, both in and out of the traditional definition of psychology. She says this particular misconception goes back to a misunderstanding of what psychology is and what careers in the field really entail.
"The way I've heard it put best is,'psychology is about saving minutes, money, and life."Susan Amato-Henderson

"The way I've heard it put best is,'psychology is about saving minutes, money, and life." Saving minutes and money are at the forefront of the human resources field, where alumna Krista Knight is finding her bachelor's degree in psychology from Tech useful every day. "I can say without a doubt that my degree helped me land my first job and continues to play a valuable role," she says.
Following her graduation, Knight interviewed for an administrative assistant position at a biosciences firm in Ann Arbor. During the interview process, she mentioned how a psych class at Tech triggered an interest in HR and a desire to eventually get into the field. After working with HR personnel, Knight was promoted to a contract HR assistant in just a few months. Later, she worked as an HR representative for a staffing company in the Detroit area. "While this job wasn't exactly what I wanted, it did introduce me to the concept of behavioral interviewing," Knight says.
As her career progressed, she began to narrow her focus in an effort to make better use of her psych degree. She began to seek more recruitment-intensive positions and returned to Ann Arbor for a job that primarily involved scheduling, conducting interviews, and "working with the
HR manager to create an acceptable list of behavioral-based inter view questions and orientations."
Knight says every positive career step was made possible by her undergraduate education. Amato-Henderson says that the array of classes and diversity of skill amongst faculty members make a degree in psychology extremely flexible and invaluable in a variety of professions and occupations.
"I loved the idea of studying people's behaviors; finding out why people are who they are and why they do what they do."Corey LaBissoniere

Corey LaBissoniere has always been fascinated with psychology. "I loved the idea of studying people's behaviors; finding out why people are who they are and why they do what they do." He also had a passion for writing. About ten years ago, while working on what would become his first book, he learned that Michigan Tech had a psychology major and felt it was the perfect opportunity to meld his two passions.
"I jumped into action and decided to go to Tech," he says. "Writing the book was still on my mind then, but I had a passion for psychology." He says studying psychology helped his writing—"more or less sparking ideas"—but still, he had a hunger for the subject. Armed with his bachelor's in psychology and a job in the social services field, LaBissoniere dove into writing. "It is a lot of fun, especially when I get into the all-night writing sprees where the story just flows," he says.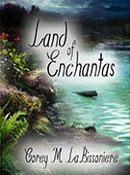 Ten years of these sprees led to the publication of LaBissoniere's first novel, a middle grades/young adult fantasy novel, Land of Enchantas. The sequel, Return to Enchantas, is expected to be released shortly. "I decided to write fantasy because I enjoyed reading those types of books during my childhood," he says. LaBissoniere says that for a first novel, Land of Enchantas has done well, with more than a 1,000 copies sold and "still going." His studies have inspired him to pursue other types of writing as well. "I also have ideas in mind for science fiction, children's books, and even comic books that I hope to write some day."
Not only has the psychology degree helped with LaBissoniere's writing, but it led him to his day job as well, as foster care worker, adoption worker, and post-adoption worker with U.P. Kids of Houghton. "I hold a few different positions," he says. "My psych degree, as well as my minor in social and behavioral studies, fits perfectly here."
Amato-Henderson says that Knight's and LaBissoniere's stories are just two of the many psychology success stories. "While it's true that a number of our graduates go on to pursue their education in graduate school, many find rewarding occupations with their bachelor's degree."
Michigan Technological University is a public research university founded in 1885 in Houghton, Michigan, and is home to more than 7,000 students from 55 countries around the world. Consistently ranked among the best universities in the country for return on investment, Michigan's flagship technological university offers more than 120 undergraduate and graduate degree programs in science and technology, engineering, computing, forestry, business and economics, health professions, humanities, mathematics, social sciences, and the arts. The rural campus is situated just miles from Lake Superior in Michigan's Upper Peninsula, offering year-round opportunities for outdoor adventure.