Dana Van Kooy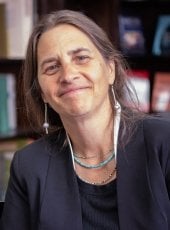 Associate Professor, English in Transnational Literature, Literary Theory and Culture
Director, RTC Graduate Program
PhD, University of Colorado at Boulder
Recent & Ongoing Research
My essays have appeared in Studies in Romanticism, Romantic Textualities, The Keats-Shelley Review, Modern Drama, Theatre Journal, and Literature Compass. They have also been published as chapters in A Cultural Hisotry of Tragedy: In the Age of Empire, edited by Michael Gamer and Diego Saglia (2020) and The Visual Life of Romantic Theater, 1780-1830, edited by Diane Piccitto and Terry F. Robinson (2023).
Undergraduate Teaching: I teach a wide range of literature courses that support the BA program in English at MTU. These include Introduction to Literature, Gender and Culture, Literary Criticism and Theory, Shakespeare, Studies in Drama, Studies in the Novel, Literature and the Environment, Literature Across Borders, and Science Fiction.
Graduate Teaching: I teach a variety of literature and theory based courses for the Humanities graduate program in Rhetoric, Theory, and Culture (RTC). I welcome enquiries from graduate students interested in pursuing research in any of these or related areas.
Links of Interest
Research Interests
Transnational and Global Romanticism
Drama and Theatre History
Performance Theory; Literary and Cultural Theory; Affect
Gender Studies
The Atlantic World and Cultural Reappraisals of Imperial Histories
Literature and the Environment; Ecology; Eco-Criticism; Plantationocene
Shelley's Radical Stages:Performance and Cultural Memory in the Post-Napoleonic Era. Routledge, 2016 Read More
"Darien Prospects in Keats's 'On First Looking into Chapman's Homer'" Keats-Shelley Review 29.2 (September 2015): 128-45. Read More
"Melodramatic Slaves." With Jeffrey N. Cox. Modern Drama 55.4 (Winter 2012): 459-75. Read More
"Darkness Visible: The Early Melodrama of British Imperialism and the Commodification of History in Sheridan's Pizarro." Theatre Journal 64(2012): 179-195. Read More
"Improvising on the Borders: Hellenism, History, and Tragedy in Shelley's Hellas." Home and Abroad: Transnational England, 1750-1850. Eds. Monika Class and Terry F. Robinson (Cambridge Scholar's Press, 2009): 41-57.
"'rank imposture' and 'mimic goblinary' in Scott's Doom of Devorgoil: A Genre Politics of National Drama." Literature Compass 4 (March 2007). Read More