Dana Van Kooy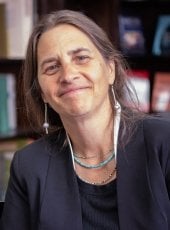 Director, English Program
Associate Professor, English in Transnational Literature, Literary Theory and Culture
PhD, University of Colorado at Boulder
Biography
My research is grounded in transatlantic, transnational, and global perspectives of the literature and drama produced throughout the long eighteenth century. My first book, Shelley's Radical Stages: Performance and Culture Memory in the Post-Napoleonic Era (Routledge, 2016), addresses how Percy Shelley's dramas reflect on and challenge the ways in which drama and the theatre both preserved cultural memories and structured the historical consciousness of global events throughout early modern period. It also examines how writers throughout the Romantic period—especially those active in the 1790s, during the first decade of the nineteenth century, and later in the post-Waterloo moment—questioned and openly opposed theatrical performances of sovereign, paternal, and imperial power. My current book is a circum-Atlantic study that traces the cultural configurations of colonialism, imperialism, and revolutionary resistance throughout the region from the early seventeenth century through the mid-nineteenth century. I identify these configurations as assemblies (political and theatrical), infrastructure (plantations/enclosures), literary genres (georgic poetry, tragedy, pantomime), and ecologies (clearances, wilderness, agricultural), which constitute the aesthetic frameworks of Atlantic histories and other forms of cultural production. At any given time, these configurations have made some people and events visible while obscuring or even erasing others. Together, these configurations represent a series of traditions and counter-traditions, which throughout this period articulate the changing colonial and revolutionary networks as well as the evolving relationships between peoples and places they inhabit.
My published essays have appeared or are about to appear as book chapters and in Studies in Romanticism, Romantic Textualities, The Keats-Shelley Review, Modern Drama, Theatre Journal, and Literature Compass.
I teach a wide range of literature courses that support the BA program in English at MTU. These include Introduction to Literature, Gender and Culture, Literary Criticism and Theory, Shakespeare, the Senior Seminar, Studies in Form (tragedy/drama), Studies in the Novel, British Literature, Major Authors, Literature and the Environment, Literature Across Borders, and Science Fiction.
Links of Interest
Research Interests
Transnational and Global Perspectives of 18th- and 19th-century Anglophone Literatures
Visual and Performance Culture; Drama and Theatre History; Performance Theory
Literary and Cultural Theory
The Black Atlantic, Transnational and Circum-Atlantic Studies; Decolonization
Literature and the Environment, Ecology, and Eco-Criticism
Shelley's Radical Stages:Performance and Cultural Memory in the Post-Napoleonic Era. Routledge, 2016 Read More
"Darien Prospects in Keats's 'On First Looking into Chapman's Homer'" Keats-Shelley Review 29.2 (September 2015): 128-45. Read More
"Melodramatic Slaves." With Jeffrey N. Cox. Modern Drama 55.4 (Winter 2012): 459-75. Read More
"Darkness Visible: The Early Melodrama of British Imperialism and the Commodification of History in Sheridan's Pizarro." Theatre Journal 64(2012): 179-195. Read More
"Improvising on the Borders: Hellenism, History, and Tragedy in Shelley's Hellas." Home and Abroad: Transnational England, 1750-1850. Eds. Monika Class and Terry F. Robinson (Cambridge Scholar's Press, 2009): 41-57.
"'rank imposture' and 'mimic goblinary' in Scott's Doom of Devorgoil: A Genre Politics of National Drama." Literature Compass 4 (March 2007). Read More