Kette Thomas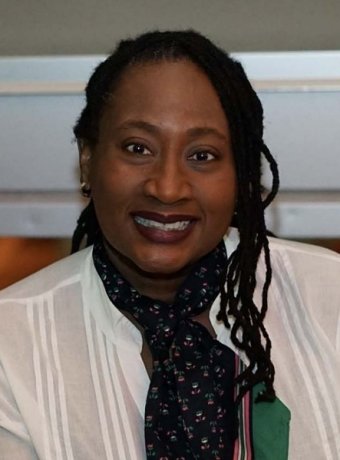 Associate Professor of Diversity and Literature, Humanities
Director, Diversity Studies Minor
University Senate Secretary
PhD, Comparative Literature, New York University at Stony Brook
Biography
Dr. Kette Thomas' work centers on questions regarding identity, and language. As a scholar and educator in comparative studies, her work draws on cultural theory; mythology/religion; Caribbean and Latin American cultures and literature; world literature; and cinema. She has publications in The International Journal of Arts in Society, Caribbean Vistas, and CLC Web: Comparative Literature and Culture, The International Journal of Diversity in Organizations, Communities and Nations, and the Journal of Religion and Film. Currently, she is writing two books: one on Haitian immigrants in Brooklyn, NY and the other on Haiti's Restavek institution. She is also working on articles that address cultural "deviancies," whether that be in the context of labeling "freaks," as a socio-political identity, or engaging the phenomenon of cult crises such as Jonestown '78.
Clermont: A History of the Haitian Baptists on 209 Clermont Ave, 1965 – 1989. (Monograph in preparation)
The Archetypal Restavek: Developing strategies for thwarting human rights violations in Haiti and abroad. (Monograph in preparation)
"The Haitian Zombie in its Religious Context: Reflecting on the uses of the zombie in Colonial and Postcolonial discourses" Caribbean Vistas Volume, 1 Issue.2 (February 2014).
"National Literatures as Intimate Expression and the Problem of Teaching World Literatures." CLC Web: Comparative Literature and Culture 15.6 (2013).
"With An Eye On A Set Of New Eyes: Beasts of the Southern Wild." Journal of Religion and Film. Volume 17, Issue 2, Article 6 (2013).
"Black Radical Pleasure: A Black Scholar Roundtable." Panelist at the American Studies Association (ASA) 2021 Annual Meeting. Moved to remote participation due to COVID-19 concerns, October 2021.
"Examining Grief, Testimony, and Ritual." Keynote Lecturer. Northern Michigan University Diversity Common Reader Program, April 21, 2021.
"Empathic Instruction." Guest Speaker and recipient of the 2021 CTL Instructional Award for Large Class Teaching. MTU William G. Jackson Center for Teaching and Learning, March 21, 2021.
"Communicating Without Translation in DEI Discourse." Guest Speaker. Roundtable Topic: "What role does scholarship play in our campus engagement with discourse on race and equity?" MTU Humanities Department Diversity Studies Program, Roundtable Series, March 19, 2021.