Kette Thomas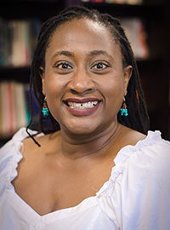 Associate Professor of Diverse Literature, Humanities
Director, Diversity Studies minor
PhD, Comparative Literature, New York University at Stony Brook
Biography
Dr. Kette Thomas' work centers on questions regarding identity, agency, and language. She places special emphasis on religion, myth, folklore, autobiography, film, creative essays and the novel. She recently published an article on the Zombie myth and the biblical figure of Lazarus and is doing research on rhetorical and representational models of human rights violations. Her current book project on RestAvecs, an informal institution of child labor in Haiti, is a primary example of such investigative focus.
Books
Thomas, Kette. "Haitian Zombie, Myth, and Modern Identity." CLCWeb: Comparative Literature and Culture. 12. (2012). Web. (http://docs.lib.purdue.edu/clcweb/vol12/iss2/12). Read More
Recent Publications
Thomas, K., "Public Secrets: In the absence of grace for Haiti's Restavec children", Haiti's Restavecs: Why We Need To Know Who and Where They Are. (peer-reviewed/refereed) (Revising to Resubmit)
Presentations
Thomas, Ketty, "Getting Beyond the Mythmakers", Diversity in Organizations, Communities, and Nations Conference, Belfast, UK, Oral.
Thomas, Ketty, "On Haiti's Restavecs", Global City Seminar, Michigan Technological University, Michigan Technological university, Oral.
Thomas, Ketty, "Bodies Without Flesh", ACLA 2012 - "Collapse/Catastrophe/Change", American Comparative Literature Association, Providence, RI, Oral. (March 29, 2012).