Stefka Hristova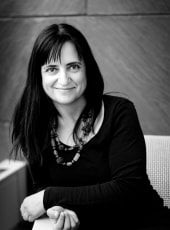 "The true picture of the past whizzes by. Only as a picture, which flashes its final farewell in the moment of its recognizability, is the past to be held fast."
—Walter Benjamin "On the Concept of History"
Associate Professor of Digital Media, Humanities
PEC Tech Forward/IPEC Director
Faculty in Communication, Culture, and Media
PhD, University of California Irvine
Links of Interest
Specialties
Visual Studies
Algorithmic Culture
Photography
Critical Theory
Proto-Algorithmic War: How the Iraq War became a laboratory for algorithmic logics

Palgrave Press, Social and Cultural Studies of Robots and AI series. Read More.

"Traces: Photographic Negatives and the Quest for Truth," Visual Resources Journal. Special Issue "What is an Image, Now?" December 2022. Read More.


"Sociality, Appearance, and Surveillance in Digital Political Activism" in Visual Activism in the 21st Century: Art, Protest and Resistance in an Uncertain World. Eds. Stephanie Hartle and Darcie White. Bloomsbury, 2022. Read More.
"Emptied Faces: In search for an algorithmic punctum," in Faces on Screen: New Approaches. Ed. Alice Maurice. Edinburg University Press, 2022. Read More.


"Portraiture, Surveillance, and the Continuity Aesthetic of Blur" Frames Cinema Journal. 18. 2021. Read More.


"Training for the Algorithmic Machine" Media and Communications. 9(2), 2021. Read More.

Algorithmic Culture: How Big Data and AI are Transforming Everyday Life. Eds. Stefka Hristova, Soonkwan Hong, Jennifer D. Slack. Lexington Books, 2021. Read More.

Hristova, Stefka. "Charting the Territory: Space and Power in the Iraq War" ACME: An International Journal for Critical Geographies. Vol. 17. No 4. October 2018. Read More


Beatty, Joel and Hristova, Stefka "Articulating Race: Reading Skin Color as Taxonomy and as Biodata" Surveillance, Race, Culture. Eds. Susan Flynn and Antonia Mackay. Palgrave Macmillan, 2018. Pp. 21-42.


Blue Screen of Death: disrupting transparent windows, composite media, and the aesthetics of continuity Read More
"Images as Data: Cultural Analytics and Aby Warburg's Mnemosyne." International Journal of Digital Art History, vol.2, October 2016. Read More


"Ruin, Rubble, and the Necropolitics of History." Transformations, no. 28, September 19, 2016. Read More


"Recognizing Friend and Foe: Biometrics, Veridiction, and the Iraq War" Surveillance and Society. Vol 12, N4 (December 2014). Read More


"Visual Memes as Neutralizers of Political Dissent" TripleC Communication, Capitalism & Critique. Open Access Journal for a Global Sustainable Information Society. Special Issue on Critical Visual Theory. Vol 12. N. 1 (2014): 265-276. Read More


"'Doing a Lynndie': Iconography of a Gesture" Visual Anthropology Journal 2013 26.5 (2013): 430-443. Read More


"Occupy Wall Street meets Occupy Iraq: On Remembering and Forgetting in a Digital Age" Radical History Review. Fall 3013. 2013(117): 83-97. Read More


"Digital Animalized Camouflage: A Zone of Biopolitical Indistinction" Interstitial: A Journal of Modern Culture and Events July 2013 Read More


"Life is Waiting:" Statehood, Temporality, and Mobility at The Terminal" Transnational Subjects Journal Vol 2. N. 1 (2012). Read More


"Abu Ghraib: A Ghostly Story" in Gender, Power, and Military Occupations: Asia Pacific and the Middle East since 1945. Eds. Christine de Matos and Rowena Ward. Routledge (March 2012). Read More


Slack, Jennifer D. and Hristova, Stefka. "Culture In-Colour." Cultural Studies, July 2016. Read More
Bad Information: Fake News, Manipulated Photographs, and Social Influencers
The Bad Info project focuses on media/information literacy and the problem of mis/dis-information. It aims to educate college students and community members on identifying (1) disinformation (or fake news); (2) manipulated photographs; and (3) mis/dis-information by social media "influencers." The series of events will examine the differences between fake platforms that manifest as real news outlets and credible news sources, addressing the role of images as evidence in digital contexts, while providing a historical context for understanding how photography has always grappled with manipulation. Finally, the project examines social media influencers' use of psychological appeals in concealing advertising as unbiased information. Funded by the Michigan Humanities (2021-2022).
Read More
.
"Remembering the Real: 3D Media and the Experience of War" Society for Cinema and Media Studies, March 2021

"affective assemblages: facial recognition and the search for love" College Art Association, February 2021