Andrew Fiss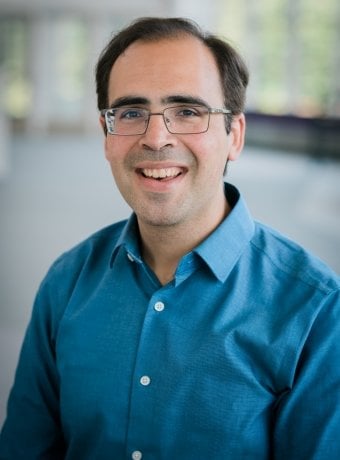 Assistant Professor of Technical & Professional Communication
Ph.D. History & Philosophy of Science, Indiana University
A.B. Mathematics, Vassar College
Biography
With a background in science studies and first-year writing, Dr. Andrew Fiss works in scientific and technical communication, especially historical and archival methods, bringing attention to how past practices can inform the present. He has studied the use of podcasting to improve students' scientific and digital literacies, and his work about humanities approaches to STEM learning has appeared in the journals Science & Education, the History of Education Quarterly, New York History, Peitho, and Configurations. His new book, Performing Math: A History of Communication and Anxiety in the American Mathematics Classroom (Rutgers University Press, expected November 2020), investigates the origins of a key issue in contemporary education: pervasive negative attitudes toward math, from anxiety to downright hatred. By looking closely at the formation of the contemporary American higher education system in the nineteenth century, Performing Math not only traces the origins of the current state of affairs but also points to techniques and frameworks that can help make educational change. By likening learning math to putting on a show, Performing Math argues that math education can be embodied, creative, and empowering to students.
His work on grants focuses on interdisciplinary and transdisciplinary collaboration. He serves as Senior Personnel on the new National Science Foundation (NSF) project "GCR: Collaborative Research: Socio-Technological System Transitions: Michigan Community & Anishinaabe Renewable Energy Systems (MICARES)" and for the National Endowment for the Humanities (NEH) project "Human-Centered Engineering Initiative."
Dr. Fiss teaches technical communication at the undergraduate and graduate levels, as well as science writing, grant writing, rhetoric, and graduate seminars in public understandings of science. He is a member of the Scientific and Technical Communication Steering Committee and serves as an advisor for the Society for Technical Communication student chapter. As former director of the Humanities Internship Program, he is willing to meet with students about any stage of the internship process. Lastly, he is very interested in transdisciplinary education at Michigan Tech and beyond.
Links of Interest
Specialties
Science Communication
History and Philosophy of Science and Medicine
Rhetorics of Science and Technology
History of Engineering and Mathematics Education
Science and Technology Studies
Interdisciplinary, Multidisciplinary, and Transdisciplinary Education
Recent Presentations
"Sounds of Sound Health: Historical Traditions of Student Singing about Health and Science," Conference on College Composition and Communication (Virtual) 2020.
"Professional Symbols: Parody and the Broader Reach of Local Mathematics." For the British Academy Workshop "Universals' Locales: The International and Global History and Sociology of Modern Theoretical and Mathematical Sciences," the University of Edinburgh, January 2020.
"Turning Health Fears into a Joke: Vassar Students' Covert Rhetorics of Ridicule, 1860s-1880s," International Society for the History of Rhetoric, New Orleans, July 2019.
"Religious Mourning and Mathematical Achievement: Burying Anna Lytics at 1870s Bowdoin College (and Bates College)," Conference on College Composition and Communication, Kansas City, March 2018.
Andrew Fiss and Laura Kasson Fiss, "Female 'Mathematikados': Parodying the Patriarchy in 19th-century STEMM Education." Lecture for the British Science Festival, British Association for the Advancement of Science, September 2017.
"'For Computing Is Our Duty': How Women Became Computers." Lecture for the Algorithmic Thinking Symposium, UC Berkeley Center for Science, Technology, Medicine and Society, Social Science Matrix, Institute of International Studies, May 2017.
"The Drug of Women's Education: Dr. E.H. Clarke's Materia Medica as Context for his Sex in Education (1873)," The History of Science Society Annual Meeting, Atlanta, November 2016.
"Performing 'Trig': The Stakes of Embodying Mathematics in Student Plays," The History of Science Society Annual Meeting, Atlanta, November 2016. (Women's Caucus featured round table)
"Studying Objects, Objectifying Students: Natural History at New York State Women's Colleges, 1861-1875," The Interdisciplinary Nineteenth-Century Studies Conference, Asheville, NC, March 2016.
"Performing Trigonometry: Scientific Parody and Women's Mathematical Abilities in Late-Nineteenth-Century America," The History of Science Society Annual Meeting, San Francisco, November 2015.
"Who's Anna? Burying Mathematics Books in order to Remember the Civil War Dead at Nineteenth-Century New England Colleges," Special Session about the History and Philosophy of Mathematics, American Mathematical Society (Eastern Section), Georgetown University, Washington, D.C., March 2015.
"Burying Anna (Lytics): Mathematics Rituals and College Communities after the Civil War," The History of Education Society Annual Meeting, Indianapolis, November 2014.