Ronald Strickland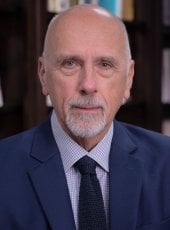 —Click on the red YouTube button below the "Download CV" link to view my video course lectures.
Professor of Literature, Humanities
Biography
Ron Strickland is the author and editor of essays, collections and journal issues on pedagogical and curricular issues in literary and cultural studies. He is also the creator of more than 100 YouTube lectures on topics in literature and cultural theory. His current research focuses on the institutional and cultural politics of the Humanities in higher education.
"Critical Studies in Cultural Pedagogy: On Teaching Marxism Online." In Cultural Studies in the Classroom, ed. Donald Hedrick, Jaafar Aksikas and Sean Andrews. New York: Palgrave MacMillan, 2019.
"Clint Eastwood's Identity Politics." In Becoming Brands: Celebrity, Activism and Politics, ed. Celia Lam and Jackie Raphael. Toronto: Waterhill Publishing, 2017, 70-82.
"Critical Cosmopolitanism and Global Anglophone Literary Studies." Delhi University Journal of Humanities and Social Sciences 3 (2016), 1-14.
"Clint Eastwood, the Cherokee and the Demise of the Southern Strategy," in Cultures of the Indigenous: India and Beyond, ed. Prem Kumari Srivastava and Gitanjali Chawla. New Delhi: Authors Press, 2014, 174-86.
"Western Marxism and the Concept of Ideology Critique." VNU Journal of Social Sciences and Humanities, Vol. 28, No. 5E (2012), 47-56.
"Learning to Learn, Learning to Earn, Learning to Consume: Neoliberalism and American Higher Education", American Studies Journal of Ukraine, March 2011, 120-7.
"Never Grow Up, Never Grow Old: Postmodernism and the Infantilization of American Culture." In Crestianicov, Helen, ed. Sailing Uncharted Waters. Chisinau: University of Moldova Press, 2009, 71-79.
"The Humanities and their Boundaries." JAC (Journal of Advanced Composition), Fall, 2006, 657-76.
"The Decline of Privilege and the Rise of Privatization in Public Higher Education." In Toward Deprivatized Pedagogy, edited by Diana C. Bell and Margaret Nugent. Cresskill, NJ: Hampton Press, 2006, 207-17.
"Saving the Humanities from the Neoliberal University." Presented at the Modern Language Association Annual Convention, New York, January 6, 2018.
(Keynote Address) "The Concept of Beauty in Western Modernity." Delivered at the Singularities International Conference, KAHM Unity Women's College, Calicut, India, January 3, 2018
(Invited Pre-Conference Lecture) "Postmodernism and its Discontents." Delivered at the Central University of Kerala, Kasargod, January 2, 2018
"Saving Cosmopolitanism from the Neoliberal Cosmopolis." Presented at the International Academic Forum (IAFOR) Conference on the City, Barcelona, July 7, 2017
"Clint Eastwood's Celebrity-Identity Politics." Presented at the Bridging Gaps Conference of the Center for Celebrity and Media Studies, Barcelona, Spain, July 4, 2016
"Sovereignty, Hegemony and Primitive Accumulation: The Republic of Texas and Austin's Old 300." Presented at the American Comparative Literature Association Annual Conference, Seattle, WA, March 27, 2015
(Plenary Address) "The Politics of Spurious Belonging: Clint Eastwood, Asa Carter and the End of the Southern Strategy." Presented at the International Conference on Culture and Society, International Academic Forum (IAFOR), Providence, RI, September 21, 2014
"Global Anglophone Literary Studies: A Paideia for Transnational Citizenship." Presented at the Fourth Asian Conference on Literary and Cultural Studies, IAFOR, Osaka, Japan, May 31, 2014
"Integrating ESL with the Academic Humanities." Presented at the College Composition and Communication Conference (CCCC), March 18, 2014
(Keynote Address) "Economic Globalization and Global Anglophone Literary Studies." Presented at the International Language and Literature Conference, Burapha University, Pattaya, Thailand, August 23, 2013
"A Klu Klan Cherokee: Race and the Southern Strategy." Presented at the Deterritorializing Diversities Conference, Magraja Agrasan College, University of Delhi, India, February 7, 2013
"Neoliberal Advertising and the Post-American Century." Presented at the Crossroads of Cultural Studies Conference of the Association for Cultural Studies, Sorbonne, Paris France, July 6, 2012