Guy C. Hembroff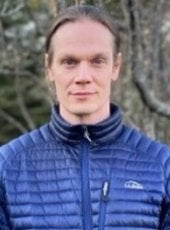 Contact
906-487-3248
Rekhi Hall 105
Associate Professor, Applied Computing
Graduate Program Director, MS in Health Informatics
Graduate Program Director, PhD in Computational Science and Engineering
PhD, Computational Science and Engineering, Michigan Technological University
MPA, Public Administration, Northern Michigan University
BS, Finance and Economics, Michigan Technological University
Biography
Dr. Hembroff is an associate professor in the College of Computing, and director of the Health Informatics graduate program at Michigan Tech. His areas of expertise are human health-focused machine learning (ML)/deep learning (DL) and computer vision algorithm development, biometric development, mHealth, intelligent medical devices, and cybersecurity.
Research Interests
Human Health-focused ML/DL and Computer Vision
Large-scale Cybersecurity architectures
mHealth
Biometric development
Intelligent medical devices
Links of Interest
Teaching Interests
Cybersecurity
Medical/Health Informatics
Data Science
Network Engineering
Wang, X., Hembroff, G. C., Bai, Y., 2013 USENIX Summit for Educators in System Administration (SESA '13), "ITSEED: Development of Instructional Laboratories for IT Security Education" USENIX, the Advanced Computing Systems Association, Washington, D.C., USA. (November 5, 2013)
Levin, E., Hembroff, G. C. (2012). Open photogrammetry concept of open-source free collaborative framework (1st ed., vol. 1, pp. 125-137). Novosibirsk: VIII International Scientific Congress Geo-Siberia 2012.
Gao, C., Hembroff, G. C. (2012). "Implications of Modified Waterfall Model to the Roles and Education of Health IT Professionals." 7th IFIP/IEEE International Workshop on Business-driven IT Management 2012.
Wang, X., Hembroff, G. C., Cerier, A. B., Perrault, B. W. (2011). "Introducing cloud computing with a senior design project in undergraduate education of computer system and network administration." Proceedings of the 2011 ACM conference on Information Technology Education, SIGITE'11 (pp. 177-182). New York, NY: ACM.
Hembroff, G. C. , ACM USENIX HealthSec 2011, "Providing an additional factor for patient identification based on digital fingerprint" Usenix, San Francisco. (August 2011).