Speakers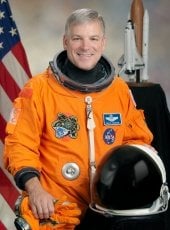 Col. Gregory H. Johnson
USAF Retired
Our Commencement speaker, Col. Gregory H. Johnson (USAF, Ret.) is a former, astronaut, test pilot and combat fighter pilot who served in the Middle East.
Johnson is a graduate of the U.S. Air Force Academy, has a Master of Science in Flight Structures Engineering from Columbia University and an MBA from the University of Texas.
In 2006, after years of intensive training, he was selected to pilot the Space Shuttle Endeavour on a mission to help assemble the International Space Station, launching in March 2008. Three years later, Johnson piloted Endeavour's final flight to ISS, the second to last Space Shuttle flight ever. He has spent more than 31 days in space, orbited the earth nearly 500 times, and traveled more than 12.5 million miles.
Prior to joining NASA, Johnson had been deployed to Saudi Arabia where he flew 34 combat missions in support of Operation Desert Storm. On his second deployment, he flew an additional 27 combat missions in support of Operation Southern Watch.
Johnson lives part time in Traverse City, Michigan, where he is an aerospace and youth development consultant for Newton's Road, a non-profit that works with regional partners to support and increase access to learning opportunities in STEM. He is also the Managing Director of the Traverse City Space Accelerator.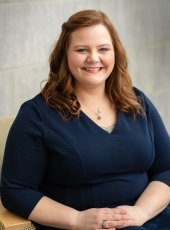 Student Speaker—Monica Brechting
When nearly a dozen Michigan Tech grads from the Grand Rapids area get together, you could consider it an alumni event. However, today's student speaker, Monica Brechting, calls it a family reunion.
In high school, when Monica decided on engineering as a career path, her choice of Michigan Tech was really a foregone conclusion. The Grand Rapids native, who will receive a Bachelor of Science in Mechanical Engineering, is the 12th Husky in her family. The count so far is one brother, one sister, a brother-in-law, three uncles and five cousins.
Family, and in particular family history, are important to Monica, who says a relative came to the Copper Country years before there was a Michigan Tech. "My grandfather, three generations removed, left Germany in 1857 to settle in Calumet." She says he worked in the mines for 11 years before moving to the Grand Rapids area to start a fruit and vegetable farming operation. After 150 years, the farm is still there—and it's still owned by her family.
"Growing up on a farm taught me the value of hard work," she says. "I like working with my hands, so engineering made sense to me." Life on a farm developed a work ethic in Monica that served her well here in Houghton. She has been active at St. Albert the Great University Parish, played piccolo in the Huskies Pep Band and was a member of the Robotics System Enterprise as team lead for her Capstone project, an underwater soil sampler. She also served as president of the Michigan Tech Chapter of Silver Wings, a national organization dedicated to creating proactive, knowledgeable and effective civic leaders through community service and education about national defense.
As today approached, Monica says she pondered the question "What makes a Husky?" She researched her talk by asking friends what made them know they belonged here. "This is my love letter to Michigan Tech," she says. "It takes a unique person to thrive here, but if you're that type of person, you'll fall in love."
She says "I wrote this speech because it's the speech I wanted to hear."
Monica says she was a bit unsure of herself when she first got here, but eventually hit her stride. She says she went through the process of not knowing where she fit in to finding her place. "It took me two-and-a-half years, but I found my Husky family at the passionate community of St. Als. They make me strive every day to be the best I can be at whatever I try."
Monica is graduating today as an engineer. And with a 3.52 GPA, she's doing so with honors.
Michigan Tech has become a significant part of Monica's family history and she will be sad to leave it. "I am excited to move back closer to home, especially in the Grand Rapids Area."
It's not surprising, after all it's where her roots are.