Speaker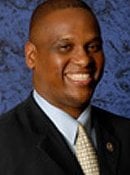 Otha Thornton
Otha Thornton is a native of Georgia who completed the Army's Officer Candidate School in 1990. He is presidential communications officer and director of human resources at the White House Communications Agency.
He has had numerous postings in military intelligence and human resources. From 1999 to 2002, he was a recruiter, public affairs officer, and assistant professor of military science at Michigan Tech, where he earned a master's degree in rhetoric and technical communication in 2001. He also earned a bachelor's degree in urban studies from Morehouse College in 1989.
Thornton has been to seven military schools and has received many awards for exceptional service.
He is married to the former Caryn Dukes of Atlanta, Georgia; they have two children.
Thornton received Michigan Tech's Outstanding Young Alumni Award in 2003; was named the Scout Leader of the Year by the Hiawathaland Council in 2002; and the Parting of the Water Faculty Service Award from the Tech chapter of Omicron Delta Kappa in 2001.