Speaker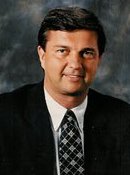 John Soyring
John A. Soyring, a native son of Upper Michigan, has a large presence in a preeminent business. He is Vice President of Global Solutions and Software at IBM Corporation, the world's top provider of computer products and services. John provides global business leadership for a multi-billion-dollar annual revenue portion of the IBM software business. He has comprehensive responsibilities, providing leadership for strategy, research and development, marketing and sales, business development, product support, and services.
John previously was Vice President and Senior Executive for IBM Software Services and Support, which is a global business unit with the mission of developing and delivering professional services for IBM's clients and business partners.
During his long career with IBM, John also has held a variety of technical, professional, managerial, and executive positions for wide-ranging services, including several worldwide software initiatives.
John, who is from Marquette, Michigan, joined IBM in 1976 after graduating from Michigan Tech with a Bachelor of Science Degree in Electrical Engineering. He later completed graduate studies in the fields of computer science, electrical engineering, and business administration at the University of Minnesota and at State University of New York.
As a Tech student, John served as a resident assistant for two years, was a member of Eta Kappa Nu, the electrical engineering honor society, and was recognized as a student leader by the Scott Paper Company Foundation.
As an alumnus, he serves on Tech's Electrical Engineering Academy and the College of Engineering Industrial Advisory Board.