Chunxiu (Traci) Yu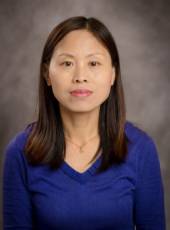 Assistant Professor, Biomedical Engineering
Affiliated Assistant Professor, Biological Sciences
PhD, The Weizmann Institute of Science
Biography
Dr. Chunxiu (Traci) Yu is an assistant professor in the Department of Biomedical Engineering since 2021. She received her PhD degree at the Weizmann Institute of Science in Israel. After graduation, she joined Duke University as a postdoctoral associate to study the neural mechanism underlying reward-guided behaviors. Later, she studied the signal processing and network dynamics of visual attention at the University of North Carolina, Chapel Hill. Before joining the MTU, she worked as a research scientist in the Department of Biomedical Engineering at Duke University to study brain mechanisms of deep brain stimulation in Parkinson's disease.
Dr. Yu's research focuses on understanding signal processing networks of sensory and motor systems and developing biomedical devices to treat neurological disorders. Her research employs various neural engineering and neurobiological approaches, such as programming and computational modeling, electrical stimulation, optogenetics, electrophysiology, behavioral assays, and neuroanatomy, to understand and manipulate brain circuits in preclinical animal models. Currently, Dr. Yu is developing novel strategies to optimize the therapeutic efficiency and efficacy of deep brain stimulation to treat Parkinson's disease. In the last three years, Dr. Yu has received research supports from NIH funds (R03 2018, and R15 2020) and MTU internal funds (Engineering Cross-Cutting Initiative 2018, C2E2 2019, and REF 2020).
Links of Interest
Research Interests
Neuroengineering
Brain Stimulation (Optogenetic and Electrical)
Neural Signal Processing
Brain-Computer Interface
Brain and Behavior (Parkinson's Disease, Depression, Stroke, and Addiction)
BME Research Areas
Biosensors and Biomedical Instrumentation
Biomedical Optics and Ultrasound
Position Openings
Please email Dr. Traci Yu (chunxiuy@mtu.edu) including a copy of your CV for any of the following positions:
1. Graduate students
We currently have openings for highly-motivated graduate/master students with interests and/or experience in neuroscience, engineering, or computer science. Previous experience in computational modeling is beneficial.
The focus of this position is on developing novel strategies to improve therapeutic efficiency and efficacy of brain stimulation in neurological disorders using various experimental and computational approaches.
Graduate students will be accepted in the department of Biomedical Engineering through the appropriate graduate admissions process and start in the fall of 2021, see link. Those interested should hold a bachelor's or master's degree in Biomedical Engineering, Electrical Engineering or a related field and contact Dr. Yu first before applying.
2. Undergraduate research assistants
We are also seeking motivated undergraduates with knowledge of engineering, biology, or computer science. Students will learn knowledge and hand-on skills in brain dissection, electrophysiology, behavioral testing, and computational data analysis. Students with MATLAB programming skill are preferred.
Honors, Awards, Fellowships
NIH Research Enhancement Award (AREA), 2020
Portage Health Foundation Research Excellence Award, 2020
Michigan Tech Century II Campaign Endowed Equipment fund (C2E2), 2019
NIH Small Research Grant (RO3) 2018, NINDS
MTU College of Engineering Cross-cutting Initiative, 2018