Orhan Soykan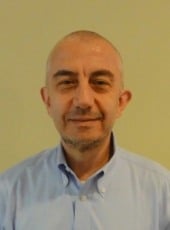 Professor of Practice, Biomedical Engineering
PhD Electrical Engineering and Applied Physics, Case Western Reserve University, 1990
Biography
Orhan Soykan joins the Department of Biomedical Engineering as a professor of practice. Soykan comes to Michigan Tech from YouGene Corporation in Fairfax, Va.
He received a PhD in Electrical Engineering and Applied Physics from Case Western Reserve University and a master's in electrical engineering from Michigan Tech.
Soykan has 22 issued US patents and 47 published patent applications. He is also a senior member of IEEE and Advancing Science, Serving Society.
Links of Interest
Research Interests
Implantable Devices
Biosensors
Power and Telemetry schemes
Molecular Medicine
Cardiovascular Medicine
Bioinformatics and Proteomics
Specialties
Implantable Devices, Biosensors, Molecular Medicine