Sean J. Kirkpatrick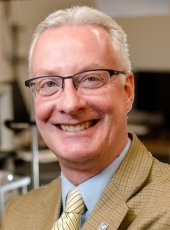 Contact

Professor and Department Chair, Biomedical Engineering
Affiliated Professor, Electrical and Computer Engineering
Affiliated Professor, Physics
Biography
Sean Kirkpatrick's primary area of research is biomedical optics, specializing in the biophysical applications of light scattering for assessing the mechanical, structural and biochemical nature of biological tissues and fluids, and synthetic biomaterials. Of particular interest to him is the theory and application of the laser speckle phenomenon, singular optics, and other aspects of coherent imaging. Other research interests include optical nondestructive evaluation of materials and structures.
He is the author of over 100 professional publications and book chapters and has edited several books and other professional volumes. He regularly serves as a reviewer for the National Institutes of Health, the National Science Foundation, and other agencies, as well as for numerous professional journals.
He is active in SPIE, the International Society for Optics and Photonics, and is a Fellow of that society. He is also a member of the College of Fellows of the AIMBE, the American Institute of Medical and Biological Engineering. The College of Fellows of the AIMBE represents the top 2% of medical and biological engineers.
Prior to joining Michigan Tech, Sean Kirkpatrick was an associate professor of biomedical engineering at the Oregon Health & Science University in Portland, Oregon. He received his bachelor's degree from Gannon University, his PhD from the University of Miami, and subsequently served as a postdoctoral fellow at The Johns Hopkins University.
Research Interests
Biomedical Optics and Photonics
Coherent Imaging and Light Scattering
Singular Optics
Biophysical Dynamics
Dr. Kirkpatrick teaches courses in biomedical signal processing, biomedical optics, medical imaging, and engineering design.