Sangyoon Han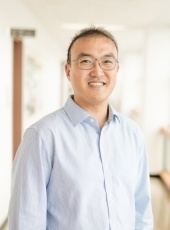 Assistant Professor, Biomedical Engineering
Advisor, Korean Student Association
PhD, Mechanical Engineering, University of Washington
MS, Mechanical Engineering, Seoul National University, Seoul, Korea
BS, Mechanical Engineering, Seoul National University, Seoul, Korea
Biography
Sangyoon Han's main research interest is to understand how mechanics affects cell biology, referred to as mechanobiology. He believes that the active force by living cells to the environment and associated molecular activities should be identified with non-perturbed system. For this, he uses a soft substrate and high-resolution live-cell fluorescence microscopy and develops novel force reconstruction technique, image modeling and machine learning technique to probe feedback between cellular structure (cytoskeleton and focal adhesions) and mechanical forces. He envisions this framework to be used to uncover mechanisms underlying rigidity sensing, migration and mechanotransduction behavior of normal cells. The ultimate applications of this framework are cancer cell metastasis, stem cell differentiation, and atherosclerosis, all of which are strong mechanotransduction-related physiological and patho-physiological events. These application studies will be done via collaboration. His lab releases a Matlab-based, open-source software for mechanobiology community.
Dr. Han likes working with energetic students. He finds great needs in cell biological studies of numerical engineers with solid knowledge about mechanics, computation and mathematics. He is also enthusiastic about building a physical device using bioMEMS for active force application to cells and tissue. He believes that engineers can contribute not only to biomedical industry but also significantly to fundamental biological science.
Dr. Sangyoon Han received his PhD with Dr. Nathan Sniadecki from Mechanical Engineering at University of Washington (UW) in 2012 in the area of cell mechanics, multiphysics modeling, and bioMEMS. He joined for his postdoctoral training a Lab of Computational Cell Biology led by Dr. Gaudenz Danuser at Harvard Medical School in the department of Cell Biology, then moved to UT Southwestern, Cell Biology and Bioinformatics in 2014. Before his PhD training, he received BS and MS degree from Mechanical Engineering at Seoul National University, Seoul, Korea in 2002 and 2004.
Research Interests
Research Interests
Mechanobiology
Traction force by a living cell
Cell adhesion and migration
Image data modeling
Machine learning
BioMEMS
Costigliola, N., Ding, L., Burckhardt, C.J., Han, S.J., Gutierrez, E., Mota, A., Groisman, A., Mitchison, T.J., and Danuser, G. (2017) Vimentin directs traction stress. PNAS. 2017 114 (20) 5195-5200.
Han, S.J., Rodriguez M.L., Al-Rekabi, Z., Sniadecki, N.J. (2016) Spatial and Temporal Coordination of Traction Forces In One-Dimensional Cell Migration, Cell Adhesion & Migration. 10(5): 529-539.
Oudin, M.J., Barbier, L., Schäfer, C, Kosciuk, T., Miller, M.A., Han, S.J., Jonas, O., Lauffenburger, D.A., Gertler, F.B. (2016) Mena confers resistance to Paclitaxel in triple-negative breast cancer. Mol Cancer Ther.DOI: 10.1158/1535-7163. MCT-16-0413
Milan,J., Manifacier, I., Beussman, K.M., Han, S.J., Sniadecki, N.J., About, I., Chabrand, P. (2016) In silico CDM model sheds light on force transmission in cell from focal adhesions to nucleus. J Biomechanics. 49(13):2625-2634.
Lomakin. A.J., Lee, K.C., Han, S.J., Bui, A., Davidson, M., Mogilner, A., Danuser G. (2015) Competition for molecular resources among two structurally distinct actin networks defines a bistable switch for cell polarization, Nature Cell Biology. 17, 1435–1445
Han, S.J., Oak, Y., Groisman, A., Danuser, G. (2015) Traction Microscopy to Identify Force Modulation in Sub-resolution Adhesions, Nature Methods. 12(7): 653–656
Rodriguez, M.L., Graham, B.T., Pabon, L.M., Han, S.J., Murry, C.E., Sniadecki, N.J. (2014) Measuring the Contractile Forces of Human Induced Pluripotent Stem Cell-Derived Cardiomyocytes with Arrays of Microposts. J Biomechanical Engineering. 136(5), 051005
Sniadecki, N.J., Han, S.J., Ting, L.H., Feghhi, S. (2013) Micropatterning on Micropost Arrays, Methods in Cell Biology. 121:61-73
Rodriguez, A.G., Rodriguez, M.L., Han, S.J. Sniadecki, N.J., Regnier, M. (2013) Enhanced Contractility with 2-deoxy-ATP and EMD 57033 is Correlated with Reduced Myofibril Structure and Twitch Power in Neonatal Cardiomyocytes. Integr Biol. 5(11):1366-73
Han, S.J., Bielowski, K., Rodriguez, M, Ting, L., Sniadecki, N.J. (2012) Decoupling Spread Area, Substrate Stiffness, and Micropost Density: A Close Spatial Relationship Between Traction Forces and Focal Adhesions. Biophys J. 103(4):640-648
Ting, L., Jahn , J., Jung, J., Shuman, B., Feghhi, S., Han, S.J., Sniadecki, N.J. (2012) Flow Mechanotransduction Regulates Traction Forces, Intercellular Forces, and Adherens Junctions. Am J Physiol Heart and Cir Physiol. 302(11):H2220-H2229
Ting, L.H., Feghhi, S., Han, S.J., Rodriguez, M.L., Sniadecki, N.J. (2011) Effect of Silanization Film Thickness in Soft Lithography of Nanoscale Features. ASME J Nano Engr Medicine. 2(4):041006
Rodriguez, A.G., Han, S.J., Regnier, M., Sniadecki, N.J. (2011) Substrate Stiffness Increases Twitch Power of Neonatal Cardiomyocytes in Correlation with Changes in Myofibril Structure and Intracellular Calcium. Biophys J. 101(10):2455-2464.
Han, S.J., Sniadecki, N.J. (2011) Simulations of the Contractile Cycle in Cell Migration Using a Bio-Chemical-Mechanical Model. Comp Meth Biomech Biomed Eng. 14(5):459-468
Tooley, W.W., Feghhi, S., Han, S.J., Wang, J., Sniadecki, N.J. (2011) Thermal Fracture of Oxidized Polydimethylsiloxane during Soft Lithography of Nanopost Arrays. J Microeng Micromech. 21(5):054013
Liang, X.M, Han, S.J., Reems, J.A., Gao, D., Sniadecki, N.J. (2010) Platelet Retraction Force Measurements Using Flexible Post Force Sensors. Lab on a Chip. 10(8):991-998
Dr. Han teaches cell biomechanics and mechanical transduction, numerical methods in biomedical engineering, and fluid mechanics.