Personal Items
ACMAL is not responsible for, nor can it guarantee, the safekeeping of your personal items, specimens, or data.
When exiting the lab, be sure that all personal items are removed, any specimens are removed or disposed of, and that any desired data are saved on a personal storage device. ACMAL reserves the right to dispose of any items, specimens, or data stored in the lab or on computer drives.
Food and Drink
No food or drink is permitted within the microscopy labs.
These labs contain sensitive and expensive equipment which are susceptible to damage from liquids and food particles. Additionally, these labs are intended to be clean environments in order to reduce the possibility of specimen contamination.
Lab Configuration
Users are expected to return the laboratory to the same or better condition in which it was found.
ACMAL provides various specimen preparation tools such as tweezers, scribers, scissors, and so on, in each lab. Before exiting a lab, specimen preparation equipment should be returned to the location in which it was found and waste materials should be disposed of. Additionally, microscope settings should be returned to default settings for the next user. If any specimen preparation tools are missing or a microscope is found in an unusual or unfamiliar setting, contact facility staff for assistance.
Recycling
ACMAL recently installed new recycling infrastructure across the seven labs on the 6th and 7th floor of the M&M and the STEM lab at the ATDC.
Glove Recycling
ACMAL has partnered with the Office of Sustainability and Resilience to pilot a recycling system for nitrile gloves.
You will find collection buckets in all labs, except for sample prep, which contains a larger box that we will use to consolidate gloves from across the labs and ultimately ship to be recycled. The guidelines for glove recycling are printed on all of the buckets and a sign near the larger box, but as a general rule all gloves that formerly went into the standard trash are acceptable as long as they aren't totally saturated. A screenshot of the glove recycling signage is below.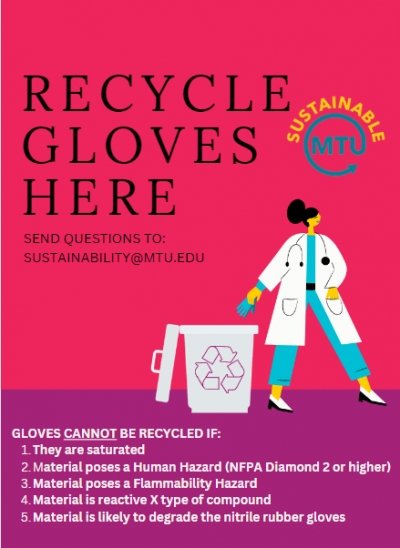 Recycle Gloves Here
Send questions to: sustainability@mtu.edu
Gloves cannot be recycled if:
They are saturated
Material poses a Human Hazard (NFPA Diamond 2 or higher)
Material poses a Flammability Hazard
Material is reactive X type of compound
Material is likely to degrade the nitrile rubber gloves
Single Stream Recycling Bins
ACMAL labs on the 6th and 7th floor of the M&M now have blue bins for single stream recycling.
Accepted items are:
paper products
plastic numbers 1–8
aluminum
glass
There is signage provided near each bin with more information on what is recyclable, or visit Recycle906.
We hope you take advantage of these programs and help reduce waste going to the landfill. Contact ACMAL staff or sustainability@mtu.edu with questions.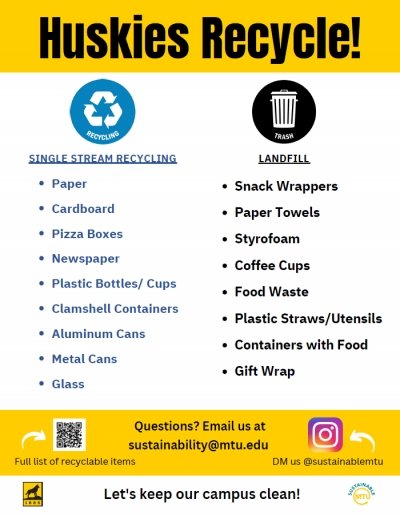 Huskies Recycle!
Single Stream Recycling
Paper
Cardboard
Pizza Boxes
Newspaper
Plastic Bottles/Cups
Clamshell Containers
Aluminum Cans
Metal Cans
Glass
Landfill
Snack Wrappers
Paper Towels
Styrofoam
Coffee Cups
Food Waste
Plastic Straws/Utensils
Containers with Food
Gift Wrap
Questions? Email us at sustainability@mtu.edu
Let's keep our campus clean!
Summary
Do not bring food or drink in the microscopy labs.
Do not store personal items in the facility.
Users may not store specimens in the facility unless they have permission to do so.
This facility does not guarantee the preservation of its users' data.
Before exiting the lab after use, return any tools to their default location, dispose of waste materials, and return the instrument to default settings.
Take advantage of recycling facilities.