There's a method to coordinating robotic fleets in underground tunnels, mine shafts and caves.
The Defense Advanced Research Projects Agency (DARPA) is holding a Subterranean Challenge. Three competition environments — mine tunnels, urban underground and natural cave systems — in two tracks — virtual simulations and systems with real hardware. May the best robot team win.
About the Researcher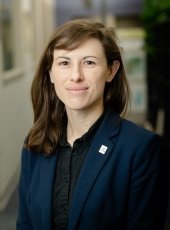 Sarah Kitchen
phone: 734-994-7236
Winning the end game is what a group from the Michigan Tech Research Institute (MTRI) are focused on. Sporting a good Huskies name, BARCS for Bayesian Adaptable Robot Control Systems, the team is competing in the virtual track, led by MTRI research scientist Sarah Kitchen.
"In the big picture, we're trying to coordinate robots in a variety of environments, each with their own challenges," Kitchen said. "We want robust systems all around."
Last October, the team took second place in the virtual track while running simulations in mine tunnels. This February, they're competing in an environment focused on subway systems, sewers and other urban infrastructure. The competition continues in August with natural caves. Then in August 2021, the competition wraps up with a trifecta environment that pulls in mines, urban underground and caves. Integrating the information from the SubT Challenge could help with natural disaster response, battlefield preparedness and mining operations.
SubT: Virtual Track
Kitchen's background is in pure mathematics and now as a MTRI research scientist she takes her ability to synthesize abstract systems and helps bridge digital and real interfaces.
At first glance, the SubT virtual track looks like a video game — but the fidelity of the LIDAR and other sensor simulations hint at the proximity to a real scenario: Fully autonomous unmanned vehicle navigation. Competition environments are built from modular tiles that have different features such as ramps, open spaces, and vertical shafts, and to which rubble and other challenges are added. SubT is interested in exploring a full range of realistic challenges, such as dynamic environments, collapsed walls, and flooded corridors.
Kitchen and her team's goal is to get a group of drones to coordinate in order to accurately sense the environment, explore the space and efficiently report back. They have to find specific objects in the mine and return with clear images with the right location. The mine tunnels fleet includes a large ground robot, a smaller ground robot, a flying quadcopter and a larger hexacopter; for the urban circuit they'll use two large ground vehicles and one small ground vehicle.
Different drones do better with different obstacles — limited by battery life. As they move around, the fleet gathers spatial data that is turned into 3D point clouds that the BARCS team processes and makes sense of.
"One of the benefits of the virtual track is that we are able to tackle challenging multi-robot collaboration problems without the additional complexities and expense of implementing our solution on hardware," Kitchen says. "So we can scale up our fleet or pursue different sensing options that wouldn't work in the systems track."
SubT: Systems Track
In running SubT, the DARPA group is interested in observing the limits to robotic endurance and autonomy in dynamic environments where their sensors lose connection and quality. Underground spaces tend to be wet, dark, busted up and generally difficult to navigate.
While the human minds guiding the drones rely on eyes and ears, drones assess the world with their own senses. The BARCS team focuses on using different types of sensors: 3D LIDAR and optical cameras on the ground drones and a pair of optical cameras that provide stereo imaging on the airborne drones. On the real drones developed for the systems track in the SubT Challenge, the sensor package is also a key aspect of engineering a drone for underground navigation.
Jeremy Bos, assistant professor of electrical and computer engineering, is not competing in the SubT Challenge but is well acquainted with the snafus and surprises of running a robot fleet. He runs an autonomous vehicle project for the Army's Combat Capabilities Development Command and Ground Vehicles Systems Center. Like Kitchen's work, it focuses on validating experiments and simulation.
"Field testing is expensive, uncontrollable, and unpredictable. Developing reliable autonomous vehicle platforms that operate in challenging environments, like those found in the SubT challenge, will require extensive testing via simulation," Bos said, adding that since hardware is also expensive, researchers tend to be cautious when testing in potentially dangerous environments. "That's why the virtual track is a vital component of the SubT program: If your autonomy stack doesn't work in simulation it will, for sure, not work in the field. Sarah and her team are doing really impressive work with a great showing for the BARCS team and Michigan Tech!"
SubT: Integrate
Whether focusing on the intangibles of sensing in the virtual track or the nuts and bolts of the systems track, the end goal of SubT is to bring the two closer together.
"We can focus on scenarios that are too hard for the systems track," Kitchen said, adding that as much as the virtual track can push the systems track, the reverse also happens, and real drones help validate the algorithms put to the test by BARCS and others. At the end of the day, everyone is trying to answer the same questions, Kitchen points out, "What is explorable? Where have I been? Where do I go next?"
To answer those questions, SubT researchers balance precise planning with triage. Troubleshooting is not a pesky side effect, it's the name of the game. And as the robots line up — both in real life and in the simulator — they prepare to delve the difficult terrain of underground spaces as well as brighten our understanding of robotic coordination, autonomy and remote sensing.
There's a Method to My...
An occasional series in which we dissect how researchers do their work, one methodology at a time.
Michigan Technological University is a public research university founded in 1885 in Houghton, Michigan, and is home to more than 7,000 students from 55 countries around the world. Consistently ranked among the best universities in the country for return on investment, Michigan's flagship technological university offers more than 120 undergraduate and graduate degree programs in science and technology, engineering, computing, forestry, business and economics, health professions, humanities, mathematics, social sciences, and the arts. The rural campus is situated just miles from Lake Superior in Michigan's Upper Peninsula, offering year-round opportunities for outdoor adventure.