Food and music are front and center at the 2018 Parade of Nations. This year's headline performers add chuckles to the mix.
Guitar playing and juggling require nimble fingers, and the audience will witness both when Parade of Nations headliner—the madcap international act Olé!—performs at 7:30 p.m. Saturday, September 15, at Michigan Technological University's Rozsa Center for the Performing Arts.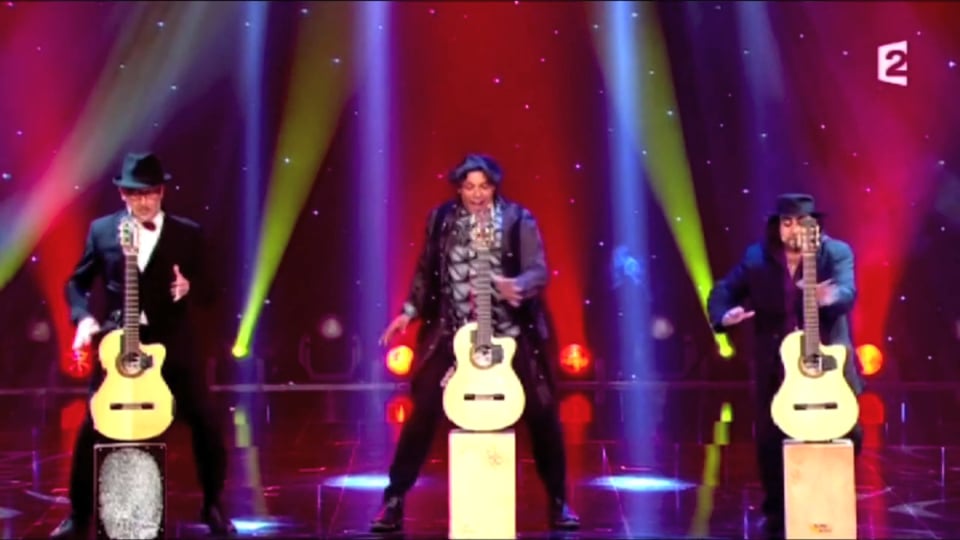 Paul Morocco, Guillermo de Endaya and Marcial Heredia are coming to Houghton on Saturday for a performance that's fun for the whole family. Tickets are $15 for adults, $5 for youth and at no charge to students in the Experience Tech program. (Box office 906-487-2073, or tickets@mtu.edu).
The performance caps off a day of festivities that begin when the 29th annual Parade of Nations steps off at 11 a.m. Saturday in Hancock. The flag-flying procession, including floats, horses, marchers in the traditional ceremonial clothing of their countries, and the Huskies Pep Band, makes its way across the Portage Lake Lift Bridge to Dee Stadium on the Houghton waterfront. At the Dee, the afternoon-long Multicultural Festival features 11 international performances on the main stage and 22 food booths serving cuisine from around the world at affordable prices. Pony rides, a book sale and art projects from local youth add to the fun. Outdoor dining will again be available this year to ease traffic congestion, and a projection screen is designed to make viewing activities on the main stage more accessible. Trivia contests and prizes will be awarded throughout the day—the biggest of which is a drawing for a Chicago getaway package.
Love Parade of Nations and Win
Whether you toss candy or applaud the floats, bands and marchers, you could be rewarded with a package that includes airfare donated by SkyWest Airlines and Parade of Nations, a two-night stay at the Fairfield Inn and Suites in Downtown Chicago, and two Go To Chicago Cards to three attractions of your choice.
To enter, just make your own parade sign and hold it high—Parade of Nations organizers will be handing out raffle tickets along the route. The winner will be announced at the festival. You must be present at the drawing to win. See the official rules for more information.
Savor International Treats
The festival is renowned for tasty food. The 22 food booths include 17 that will serve dishes prepared by international students in the Michigan Tech kitchens. It's a process: students must submit ingredient lists and complete the required food preparation and safety training weeks in advance. Michigan Tech Dining Services, under the direction of Chef Eric Karvonen, is vital to the process of certifying 80-plus students to ensure food is correctly prepared as well as delicious.
Festival booths coordinator Beth Williams says other booths this year include two that feature henna tattoos and another offering clothing from India.
Boogie to the Global Beats
Entertainment emceed by local newsman Mark Wilcox, who's been doing the honors for more than two decades, includes dances from the Scottish Highlands to Bollywood to belly dance fusion group 47 North and vocal acts ranging from popular local performer Bob Hiltunen to traditional Irish songs by Michigan Tech student musician Greg Beaudoin.
The festival wraps at 3 p.m. but the fun isn't done. Olé, described as "three guitar locos who sing like the Bee Gees and rhumba like the Gypsy Kings," perform an over-the-top blend of salsa, swing, jazz, blues and pop, complete with flipping and flying flamenco guitars and plenty of audience participation. Tickets are $15 for adults and $5 for youth. There is no charge for Michigan Tech students in the Experience Tech program.
Michigan Technological University is a public research university founded in 1885 in Houghton, Michigan, and is home to more than 7,000 students from 55 countries around the world. Consistently ranked among the best universities in the country for return on investment, Michigan's flagship technological university offers more than 120 undergraduate and graduate degree programs in science and technology, engineering, computing, forestry, business and economics, health professions, humanities, mathematics, social sciences, and the arts. The rural campus is situated just miles from Lake Superior in Michigan's Upper Peninsula, offering year-round opportunities for outdoor adventure.